Control the interior with a single touch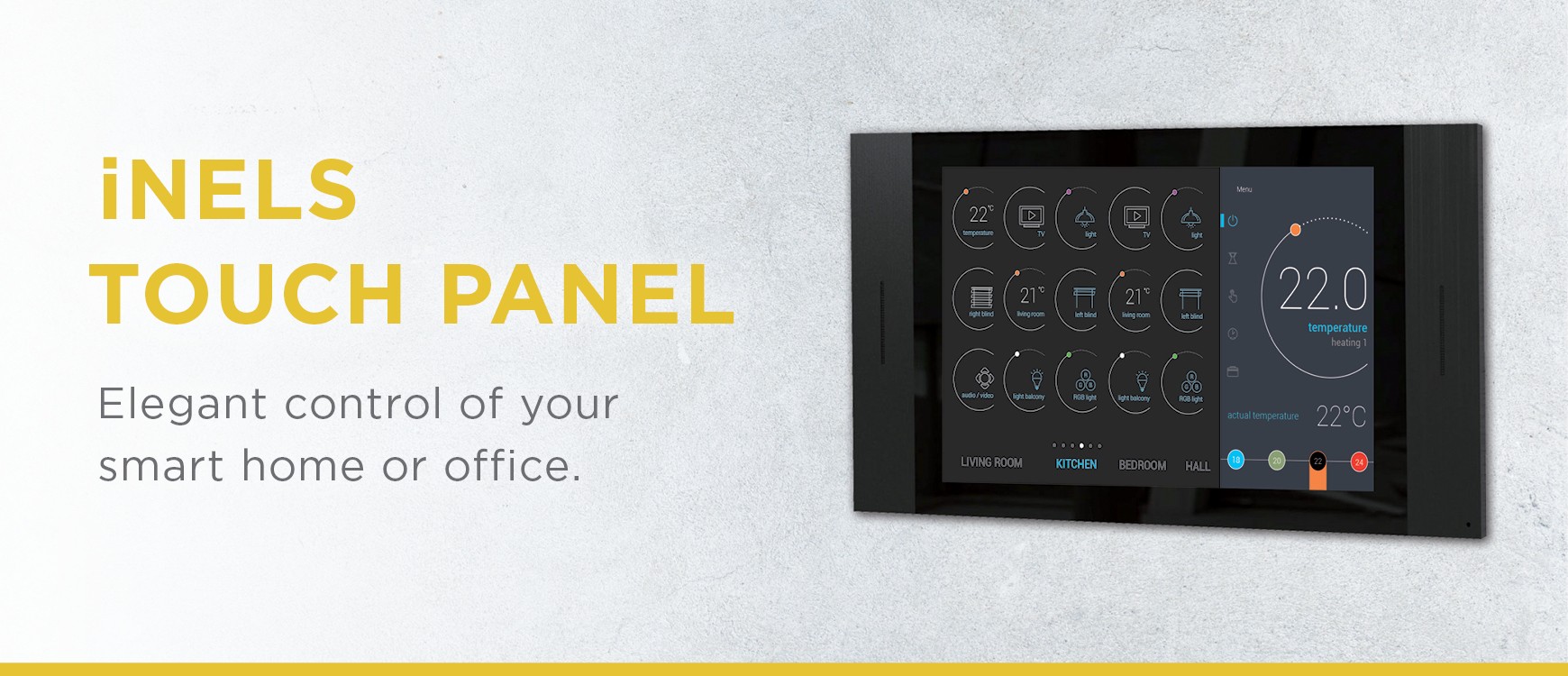 We have developed the multifunctional iNELS Touch Panel for you, to allow you to control any iNELS installation both at home and in your office. The practically oriented model helps drive smart electrical installations and provide a comprehensive view of the energy flow in the building.
The 10-inch touch panel unit unifies the control of various types of devices and simplifies the operation of all home electrical installations. With one touch, you can set the optimal environment for each of your activities while controlling energy management.
The panel runs on a dual-core ARM Cortex-A7 processor, data is displayed on the colour 10" TFT LCD display. It automatically controls technologies such as lighting, heating or air conditioning and can handle them according to both current and pre-set wishes. The elegant design fits perfectly into all modern interiors.
Everyday use facilitates intuitive menus
Among the biggest advantages of the system are the uniqueness and ease of operation, which dominates the intuitive menu. The flexibility of the whole system underlines the remote control of iNELS Home Control applications for Android, applications for the
Future office
booking system. There you can control a number of simplifications such as on / off switch timing, special programs for different occasions, etc. With the built-in microphone and speakers, it also incorporates a practical intercom function.
The
iNELS Touch Panel
represents the future of smart interior control. In a comprehensively integrated device, electrical equipment is integrated into a single platform that greatly simplifies maintenance, saves time and reduces costs.
Technical parameters iTP
10.1" TFT LCD display with 1280 x 800 pixel resolution.
CPU A20 ARM Cortex-A7 dual-core.
1GB DDR3 SDRAM.
LAN 10/100.
Power PoE IEEE 802.3af (Active PoE).
Built-in miccophone, speakers.
Dimensions: 325 x 174 x 35 mm.
Date of publication: 06. 02. 2018
Information about the company
Millions of Relays, Thousands of satisfied Customers, Hundreds of local staff, Twenty Five Years of Research, Development and Production, Fifteen Foreign Branches , but just ONE Company , ELKO EP, an innovative Czech company, where R&D, Production, Logistics, Service and Support all take place in our expanding Headquarters in Holešov. We are mainly focused our very own systems designed for Hospitality, Health Care, Smart Cities and the Internet of Things (IoT).
ELKO EP employs nearly 240 people, exports to over 70 countries around the world and has 15 foreign branches. Czech company of the year 2012, Top 100 Czech Companies, Visionary of the Year 2015 and Global Exporter in 2016 are just a few of the awards received and we are not finished, We continually strive for innovation and development because we care.
Calendar
1

iNELS BUS system webinar (Školení a výstavy)

2

3

4

5

6

Middle East Electricity 2018 (Školení a výstavy)

7

8

Relay webinar (Školení a výstavy)

9

10

ELECRAMA 2018 (Školení a výstavy)

11

12

13

14

15

Vira Ukraine 2018 (Školení a výstavy)

16

17

18

19

20

21

22

23

24

25

26

27

28

Vietbuild Hanoi 2018 (Školení a výstavy)
Spring Construction Forum 2018 (Školení a výstavy)

29

30

31
Customer Centre
Infoline
| | |
| --- | --- |
| | +420 573 514 221 |
| | elko@elkoep.com |
Technical support
| | |
| --- | --- |
| | +420 778 427 366 |
| | support@elkoep.com |