Dubai is waiting for a new landmark – a five star smart pole
Additional information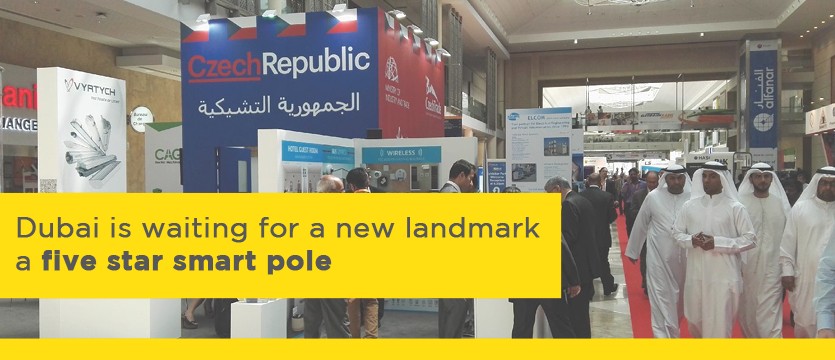 Modular smart pole, homes controlled by mobile phones, a vision for the further development of smart hotels and solutions for agriculture. These are the main topics we are about to introduce in the United Arab Emirates for the Middle East Electricity Exhibition 2019 in Dubai.
It is a pity that the smart pole due to its dimensions cannot be presented directly in the exhibition grounds, but residents and visitors to Dubai will soon be able to admire it right in the streets of this the most populous city of the United Arab Emirates. Thanks to the news from our local branch, we believe that it will not only be there.
Arabs are great supporters of modern technology and they will also be interested in our comprehensive solution for smart cities. Thanks to IoT, it is possible to monitor, analyse and efficiently manage virtually any area - from waste management, to public lighting, transport, energy consumption, to the analysis of free parking spaces.
In Dubai, as in February at the Integrated Systems Europe exhibition in Amsterdam, we will be presenting a comprehensive IoT solution for smart farming, which, thanks to its climate, is not only for the Arabian Peninsula.
We will also showcase new developments in wireless electrical installations for existing buildings and hotels, such as Samsung Hospitality TV and the new line of glass switches iNELS BUS with a completely customizable look and customer-customizable icon motifs.
Only in the Emirates, Expo 2020 will have approximately 700 new buildings and hotels built, and we believe that many of them will be collecting stars as well as providing the comfort that hotel management and guests expect with our comprehensive iNELS Hospitality Solution.
Thanks to our own iNELS (web link) solution, we are one of the world leaders in the field of intelligent electrical installation development, and we have traditionally a strong position in the Middle East. It was only a matter of time before we opened our own branch office in the United Arab Emirates. It has had many successes, including participation in designing the Rotana Towers network of buildings, or smart installations in the palace under the majestic statue of the Buddha Dordenma in Bhutan.
Exhibition Middle East Electricity 2019 will be held from 5th to 7th March and you will find the ELKO EP stand at C20 – Concourse B.
Date of publication: 15. 02. 2019
Calendar
Customer Centre
Technical support
| | |
| --- | --- |
| | +420 800 100 671 |
| | support@elkoep.com |
SALES
| | |
| --- | --- |
| | +420 573 514 221 |
| | sales@elkoep.com |