Light & Building 2022, Frankfurt am Main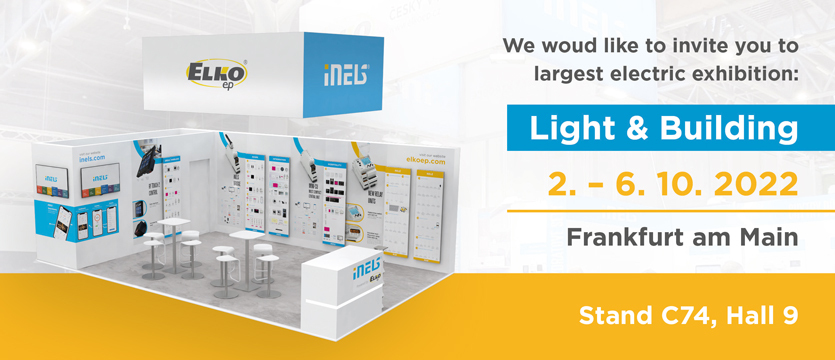 The world's largest trade fair for lighting and building technology, that is Light & Building
Dear friends,
After four long years, we would like to invite you to the international Light & Building fair, which will be held:
from 2. to 6.10. 2022 in Frankfurt am Main, you will find our stand C74 in hall 9.
Every two years (except 2020), the Light & Building fair presents innovations in the field of architecture and technology, focused on lighting and electrical engineering. The target group of the fair is architects, designers, planners, manufacturers and traders, more than 220,000 of whom gathered at the Light & Building exhibition in 2018.
The fair is a unique place where design, architecture and technologies in the field of lighting, security technology and building automation are connected.
ELKO EP is one of the world leaders in the field of development and production of devices for the automation of homes, residences, buildings, but also commercial spaces such as halls, logistics centers, office complexes, hospitals, hotels or even airports.
If you want to come visit us and see for yourself what we can do and what we have new, don't hesitate to request a free ticket at kapitanov@elkoep.com
We also offer you the possibility to agree in advance the date and time of the meeting at our stand. Email kapitanov@elkoep.com is at your disposal for this purpose.
Looking forward to meeting you!
ELKO EP team
Calendar
1

2

Light + Building 2022, Frankfurt am Main ( Trainings and Exhibitions )

3

Light + Building 2022, Frankfurt am Main ( Trainings and Exhibitions )

4

Light + Building 2022, Frankfurt am Main ( Trainings and Exhibitions )
UK Construction week, Birmingham ( Trainings and Exhibitions )

5

Light + Building 2022, Frankfurt am Main ( Trainings and Exhibitions )
UK Construction week, Birmingham ( Trainings and Exhibitions )

6

Light + Building 2022, Frankfurt am Main ( Trainings and Exhibitions )
UK Construction week, Birmingham ( Trainings and Exhibitions )

7

8

9

10

11

12

13

14

15

16

17

18

19

20

21

22

23

24

25

26

27

28

29

30

31
Customer Centre
Technical support
| | |
| --- | --- |
| | +420 800 100 671 |
| | support@elkoep.com |
SALES
| | |
| --- | --- |
| | +420 573 514 221 |
| | sales@elkoep.com |