Light & Building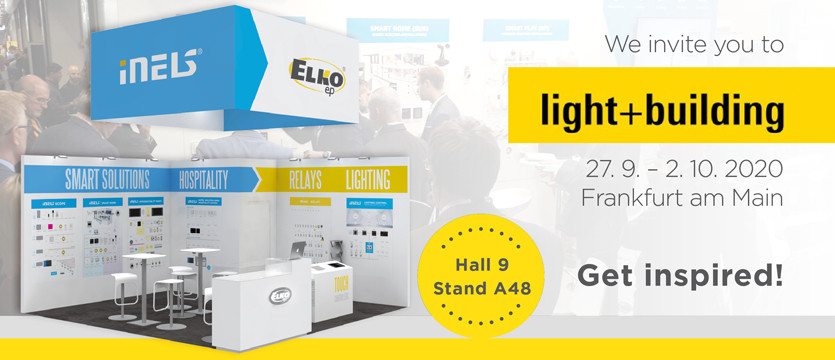 The world's leading trade fair for lighting and building services technology
27.09. – 02.10.2020 Frankfurt am Main
Opening times
27.09. - 01.10.2020 (Sunday to Thursday): 9 a.m. to 6 p.m.
02.10.2020 (Friday): 9 a.m. to 5 p.m.
Where to find us? Hall 9, Stand A48
Light + Building is the stage for the latest lighting trends and a source of inspiration for building services technology. From 27 September to 02 October 2020 Frankfurt am Main is the place where premieres are celebrated and trends are set.
More than 2,700 exhibitors present their world firsts at Light + Building in the Frankfurt Exhibition Centre. Because it combines all technical trades, the automation of buildings plays an important role in the overall picture: the increasing networking and digitalisation of electrotechnical installations enhance the quality of life both at work and at home.
At Light + Building, the industry showcases overall solutions and technologies that seek to meet demands for both lower energy consumption and modern security systems, as well as providing opportunities for individual design and high levels of comfort.
ELKO EP will be one of the few Czech companies in Frankfurt to present its range of modular electronic devices and smart solutions, which we offer under our own brand iNELS. Experts can look forward to a wide range of components for bus and wireless electrical installations, IoT solutions for smart cities or agriculture, a comprehensive solution for existing and newly built hotels, or constantly improving software applications.
ELKO EP products and solutions are used both in households and in office and industrial automation. ELKO EP is one of the world leaders in Building Management System (BMS). We offer solutions for managing any size of buildings, such as production halls, logistics centers, office complexes, hospitals, hotels and even airports.
Lighting management is an important part of our portfolio. Our solutions can offer not only comfort for users, but also significant savings. Extensive possibilities of dimming and timing are therefore an important aspect.
The iNELS system provides fully comprehensive solutions, which makes it possible to control and dim all kinds of loads. Control is made possible thanks to the wide range of dimmers to regulate their own light sources.
More information about the fair can be found on the Light & Building website.
Information about the company
ELKO EP is one of the world's leading manufacturers of electronic equipment for residential, office and industrial automation. We have been supplying the world over for the past 25 years; our main domain is primarily relays, but we also supply wireless products and IoT products. But we're not just focused on products; we also propose comprehensive and highly effective solutions.
Our branches are located in 16 countries around the world, but all developments and production takes place in our own premises in Holešov. Thanks to this background, we have received several important awards, such as the Visionary of the Year 2015 or the Global Exporter in 2016.
Calendar
Customer Centre
Reception
| | |
| --- | --- |
| | +420 800 100 671 |
| | elko@elkoep.com |
Technical support
| | |
| --- | --- |
| | +420 573 514 242 |
| | support@elkoep.com |