RFGSM-220 – Extremely Multifunctional GSM Gateway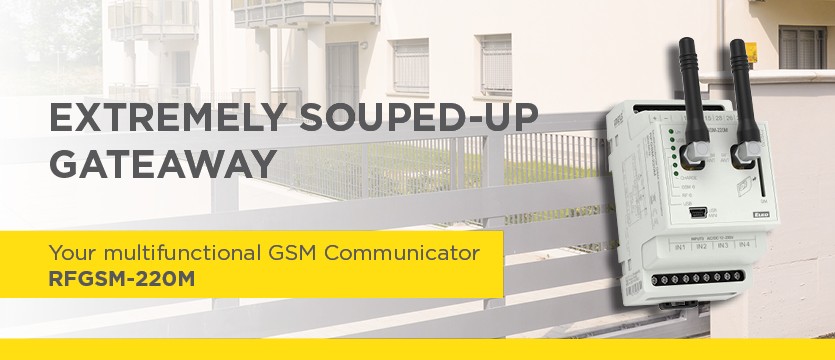 The multifunctional GSM gateway from the RF Control range is used for remote control of different parts of your home - from switching heaters or lights to checking blinds or gates.
Communication between the user and the GSM gateway is via the GSM network (GSM).

The RFGSM-220 gateway brings you the following benefits:
Switching on two internal relays utilised by an SMS message or ringing.
Utilization of 4 voltage inputs via which the connected relays can be switched or the associated RF components can be activated.
Remote control of up to 10 RF wireless receivers, providing flexibility for control even in hard-to-reach places.
Warns you when the voltage drops, a power failure occurs, lack of credit, or a weak signal.
Up to 30 users (phone numbers) can communicate with GSM.
With its own Li-Ion battery, the gateway can operate for 30 minutes without power, ensuring uninterrupted reliable protection of your property and equipment.
Up to 6 service numbers can be stored for relay status information or RF components.
The function is set via the SW Connect-1.
Date of publication: 19. 10. 2017
Information about the company
ELKO EP is one of the leading European players in the field of domestic and industrial installations for more than 23 years. Since 2007, the company has developed and produced its own system of intelligent Smart Home & Building Solutions called iNELS.
The company ELKO EP HOLDING currently employs nearly 300 people, exports to 70 countries around the world and already has 10 foreign branches. The company is rightly proud of its own production of components, custom development and innovation of new products. It is also able to offer its customers immediate distribution and quick, flawless service. ELKO EP became Company of the Year in 2012 and has the TOP 100 Czech firms' award.
Calendar
Customer Centre
Infoline
| | |
| --- | --- |
| | +420 573 514 221 |
| | elko@elkoep.com |
Technical support
| | |
| --- | --- |
| | +420 778 427 366 |
| | support@elkoep.com |