When ever to start being "really smart"?
Additional information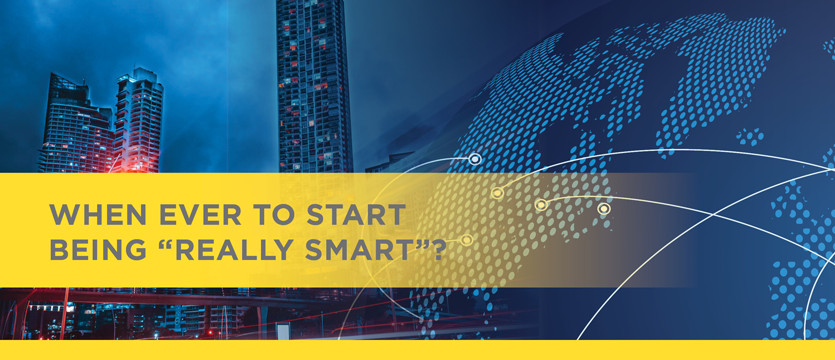 Every crisis brings new perspectives. The same is true of the coronavirus pandemic, which has virtually stopped social life across our planet within two months. The streets of usually crowded cities have been emptied, much of the offices have been abandoned, and roads are half empty. We had to start feverishly implementing all of the transformation processes we had been discussing for a long time within a few days. We were fully aware of the strength of the technology we surrounded us. So - really realized?
Imagine that a similar crisis would have come only twenty years ago. Everything would be completely different. At that time, fast internet was not yet available. Not only was there no Youtube on which we are distributing educational videos # masks4all and more. Not only was there no Facebook where we hold public collections or organize help for the loved ones. But there was no idea of working by home office. While today we can largely move into cyberspace and continue to do business online - hold videoconferences, respond to e-mails, chat, share giant documents – a mere two decades earlier we would have remained dependent on one place.
This is only a small answer, does it makes sense to invest in modern technology. Whether the Internet of Things is a bloated bubble, or whether smart features in homes, offices or cities are unnecessary luxury. They're not. It is they who light our way today in the otherwise dark times of an unexpected worldwide epidemic.
Talking and driving technology
The flexibility that technology brings to our lives surpasses traditional institutions. It drives along the logarithmic curve, which in practice means it'll be a little further on tomorrow. While we are looking for time, legislation, and rustling stacks of paper, technology has long since begun printing 3D protective shields, producing advanced respirators, plotting infected digital maps, addressing the global logistics of missing products and bringing us closer to the discovery of a new vaccine.
This is smart. Smart in the true sense of the word, in that it is still unspoiled by officials. Smart cities, smart things, advanced technologies work exactly on this principle. In real time, they can evaluate data by the dozen and naturally change the flow of life according to current needs. It works from the little things like redirecting traffic and reducing columns to reducing unnecessary energy waste. Up to the essentials - such as providing contact with the world at any time, flexibility in the labour market, or the ability to immediately change production at a new opportunity.
Technology is ready, are you?
When we launched the Different Now blog less than two years ago about new technologies, we gave it a subtitle: Technology is ready, are you? We did not want to be prophets of the current crisis, but to point out the possibilities that today offers technology across disciplines, while we ourselves want to remain in the analogue world. But the world of people and the world of technology are no longer in conflict. On the contrary, with each passing year, both worlds are a bit closer. Machines are trying to think like humans, they have ceased to burden us with their internal processes and are adapting their services to our expectations.
Not spending time with technology, but using it in real life somehow automatically is the true essence of smart business, smart technology, and smart cities. It is the current crisis that accelerates the whole process and reveals the rigidity of some of our decision-making bodies and mechanisms. If anyone wins the current crisis, it will be flexibility. People and technology that can react quickly together, act as one team and quite possibly in the future turn the world into an even better place.
Date of publication: 22. 04. 2020
Calendar
Customer Centre
Technical support
| | |
| --- | --- |
| | +420 800 100 671 |
| | support@elkoep.com |
SALES
| | |
| --- | --- |
| | +420 573 514 221 |
| | sales@elkoep.com |