Working hours during Christmas holidays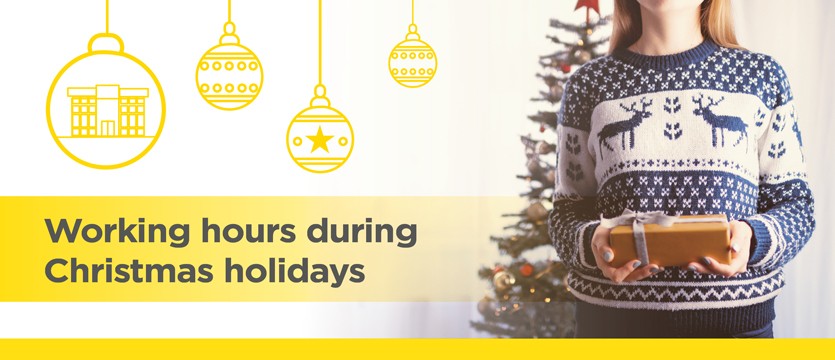 Dear customers,
we are getting closer to the holiday period here in Czech Republic.
Please note that we are avaiable also during Christmas time on following contacts:
Technical support iNELS BUS and iNELS RF
Peter Petrák
phone: +420 775 444 609
email: petrak@inels.com

Technical support Relay
David Balla
phone: +420 770 177 028
email: balla@elkoep.cz
Last orders from export customer care department will be sent till 19.12. 2019 and further invoicing will start from 6.1. 2020.
We would like to inform you about our company-wide holiday, which will be from 23. 12. 2019 do 3. 1. 2020.​
For any details about delivery, invoices or any other questions please contact:

Kristýna Zavadilová
phone: +420 777 479 954
email: zavadilova@elkoep.com
Tereza Chytílková
phone: +420 778 438 363
email: chytilkova@elkoep.com
Merry Christmas and Happy new year wish ELKO EP team to you.
Looking forward for successful cooperation in 2020!
Date of publication: 29. 11. 2019
Information about the company
ELKO EP is one of the world's leading manufacturers of electronic equipment for residential, office and industrial automation. We have been supplying the world over for the past 25 years; our main domain is primarily relays, but we also supply wireless products and IoT products. But we're not just focused on products; we also propose comprehensive and highly effective solutions.
Our branches are located in 16 countries around the world, but all developments and production takes place in our own premises in Holešov. Thanks to this background, we have received several important awards, such as the Visionary of the Year 2015 or the Global Exporter in 2016.
Calendar
Customer Centre
Reception
| | |
| --- | --- |
| | +420 800 100 671 |
| | elko@elkoep.com |
Technical support
| | |
| --- | --- |
| | +420 573 514 242 |
| | support@elkoep.com |