Your household is not even ''half smart"?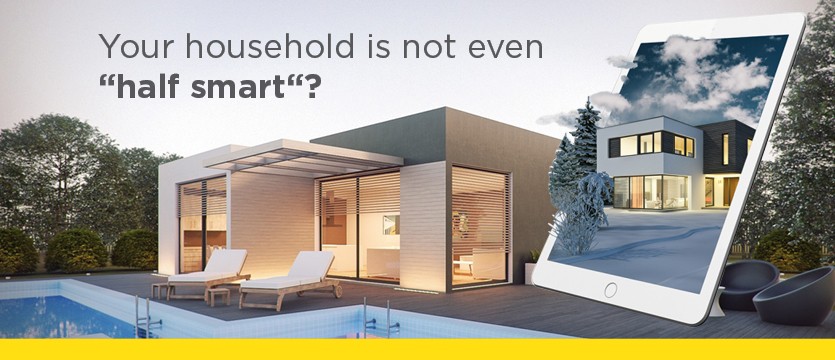 We are often confronted with the question, what exactly is the "smart home"? Many people like the idea of having such a household. In most cases this is not true.
A smart household cannot just be a word, even though it may have a range of features such as the:
Remote control appliances
Robotic vacuum cleaner
Wi-Fi router for wireless internet
Automatic lighting of the lights at the entrance
Key fob controlled entrance gate
Household video intercom
Overvoltage protection of the computer
Home weather station with outdoor temperature and humidity measurement
In these cases we are talking about partial facilities, not about a complex smart household.
The intelligent house can be characterized as having appliances, lighting, heating, air conditioning, televisions, computers, entertainment audio and video systems, and security and camera systems that are capable of mutual communication and are time-driven. Control and monitoring is then possible remotely from anywhere in the world via the Internet or smartphone.
Smart home, you can plan this in a new building, but you can also install it in your existing home, whether it's an apartment or house.
Financial aspects of smart housing
It is understandable that the initial investment involved in smart installations is higher than in the case of "ordinary" switches, sockets and electrical wiring. However, the calculations clearly demonstrate: A partial investment, such as a priority relay, will bring returns in a single year after switching on multiple appliances. Savings in controlled light intensity, hidden energy guzzlers in stand-by appliance mode, and in many other cases, are striking. The total investment will be returned quickly and you will keep saving.
Another great advantage of intelligent iNELS installations is that our system is ready for the future. This means that if new technology or a brand new appliance emerges - let's say it in five/ten years - you will be able to connect it to the current structure with the help of iNELS, and you will be able to monitor and control it as well as the current devices.
INELS products are tailored to two types of installations:
iNELS BUS - suitable for new buildings
iNELS RF - has been created with a view to the addition of equipment, i.e. the installation of wireless smart switches and switchgears, without having to deal with new cables or to bother with anything else.
If you would like to learn more information, we will be happy to explain and advise you on your wishes, needs and budget.
iNELS , of course, offers technical support to contract installers via telephone or email. So they can rely on having someone in the preparatory or the installation phase that are always on hand.
Date of publication: 30. 01. 2019
Calendar
Customer Centre
Technical support
| | |
| --- | --- |
| | +420 800 100 671 |
| | support@elkoep.com |
SALES
| | |
| --- | --- |
| | +420 573 514 221 |
| | sales@elkoep.com |