Even small markets bring big opportunities to the Smart Home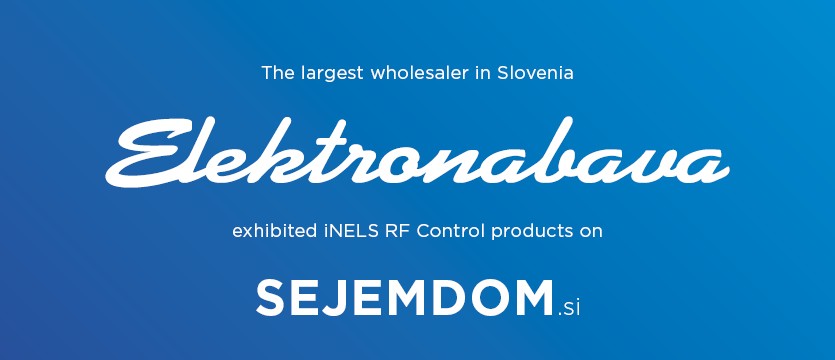 The proof is in the Slovenian market, which in the area of smart electrical installation is no pioneer
However, there proved to be a significant score in the iNELS RF Control product series. Cooperation with the biggest Slovenian wholesaler of electronics "Elektronabava," began in late 2016, and in that it successfully demonstrated the value of goods sold, which exceeded 1 million korun.
We were pleasantly surprised by the interest in the iNELS RF Control system during the Home Fair, trade fair, which was held in early March in Ljubljana. By making this wireless system very simple, yet sophisticated and the fact that it can be purchased at a reasonable price it has gained many supporters. No significant interference - without tearing open walls and simple project documentation virtually everyone can take home a piece of smart technology. Those interested in iNELS RF Control really appreciate the opportunity to purchase one or two components, and at a time that will suit them, or at any time expand the system gradually.
We look forward to the new challenges that await us in this territory and will do everything we can to be a responsible and consistent partner to our new customers.
Date of publication: 21. 03. 2017
Information about the company
ELKO EP is one of the world's leading manufacturers of electronic equipment for residential, office and industrial automation. We have been supplying the world over for the past 27 years; our main domain is primarily relays, but we also supply wireless products and IoT products. But we're not just focused on products; we also propose comprehensive and highly effective solutions.
Our branches are located in 13 countries around the world, but all developments and production takes place in our own premises in Holešov. Thanks to this background, we have received several important awards, such as the Visionary of the Year 2015 or the Global Exporter in 2016.
Calendar
Customer Centre
Technical support
| | |
| --- | --- |
| | +420 573 514 242 |
| | support@elkoep.com |
Complaints technician
| | |
| --- | --- |
| | +420 770 177 028 |
| | balla@elkoep.com |