The Range of TER-3 thermostats allows you to use them under any conditions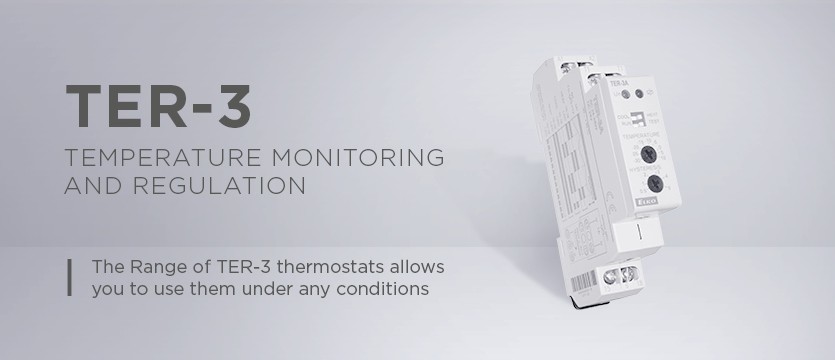 Technical benefits and facilitating Installation for you:
AC/DC in the range 24-240V eliminates the purchase of additional power sources.
Adjustable hysteresis 0.5 - 5C will positively affect the efficiency of switching the heat source.
Changing the Heating / cooling, by simply switching mode (summer / winter) DIP switch.
Temperature range -30˚C + 70C in 8 types of thermostats.
16A AgSnO contact means without the use of a contactor or auxiliary relay.
Ability to management temperature sensors at up to 50m distance.
Monitoring of disconnection / short circuit gives you early warning of emergency situations.
The method of measurement NTC / PT 100.
Date of publication: 09. 02. 2017
Information about the company
ELKO EP is one of the world's leading manufacturers of electronic equipment for residential, office and industrial automation. We have been supplying the world over for the past 27 years; our main domain is primarily relays, but we also supply wireless products and IoT products. But we're not just focused on products; we also propose comprehensive and highly effective solutions.
Our branches are located in 13 countries around the world, but all developments and production takes place in our own premises in Holešov. Thanks to this background, we have received several important awards, such as the Visionary of the Year 2015 or the Global Exporter in 2016.
Calendar
Customer Centre
Technical support
| | |
| --- | --- |
| | +420 573 514 242 |
| | support@elkoep.com |
Complaints technician
| | |
| --- | --- |
| | +420 770 177 028 |
| | balla@elkoep.com |