A switching device not only for roller blinds, garage doors or gates RFJA-32B solves numerous issues
Additional information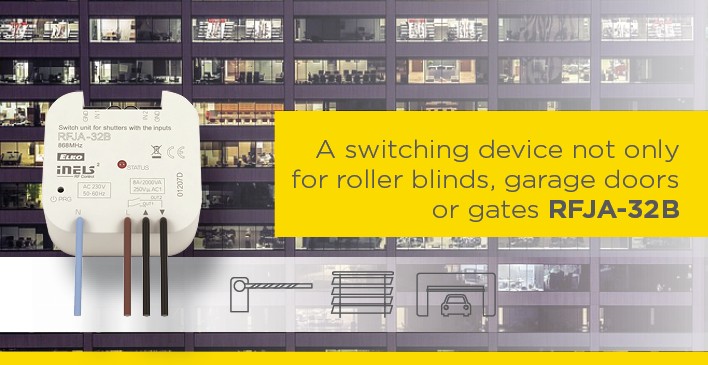 The ELKO EP company has introduced a new wireless switch from the iNELS product line, designated RFJA-32B, which saves a lot of effort in renovating or upgrading households and offices and offers easy operation
Older systems for controlling blinds or garage doors can cause a lot of worries, for example when you are looking for an additional controller because you have lost the existing one. Alternatively, you might want to increase the number of controllers for your family or employees in your business. Some owners are dependent on only older analogue systems, understanding switchgear and control device, also the number of installations can be a problem and the inability of group control over shutters or gates.
By addressing this situation, the switching device RFJA-32B combines control with both existing shutter switches and the iNELS RF wireless system. Thanks to its compact design, the switching device is easily installed to the blind drive unit or garage door operator on the external control terminal. The device itself has an input to connect an existing blind control. This gives you the ability to control your device with both the "old" switch and the iNELS RF Control wireless controllers.
With the group control function you get automatic control of all blinds at once because you can set the exact action time (raise / lower) on these switching devices. It is possible that at 6:37 in the morning, the blinds will be automatically raised and will automatically lower in the evening. The benefit is also the ability to function depending on the ambient light (combined with the components of the RF SOU system), in the summer the blinds lower during the day and on the contrary automatically retract during the colder months, allowing the sun to heat the house naturally.
There is no longer concern about controllers. Just choose what they will look like. They can be a key fob, a wireless switch, a smart phone, tablet, smart watch or even a smart TV. This switching device does not need any central units or additional installations by your to function, it's just about it and the controllers you choose.
Another example of the use for which the RFJA-32B fits is the increasing popularity of so-called light tunnels that bring light from outside directly into the room via the roof. Sometimes, when watching movies mainly in the evening, you do not want the moon to dazzle you. For this purpose, a switching device can be used in combination with a light tunnel dampening flap. You get full control over the light in the house.
Date of publication: 14. 11. 2018
Calendar
Customer Centre
Technical support
| | |
| --- | --- |
| | +420 800 100 671 |
| | support@elkoep.com |
SALES
| | |
| --- | --- |
| | +420 573 514 221 |
| | sales@elkoep.com |