Accurate Switch timer with radio controlled signal
Additional information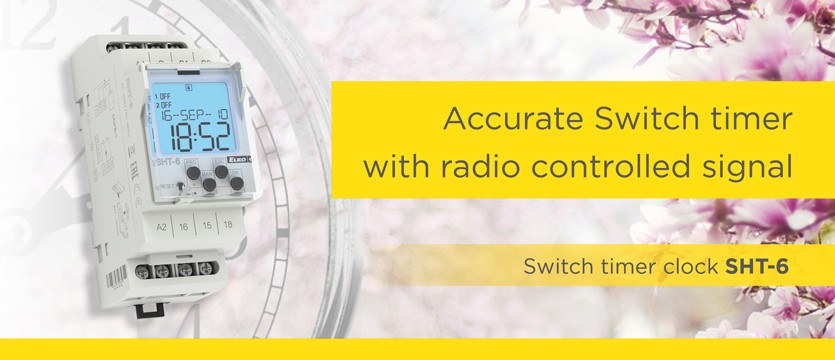 As the transition to daylight saving time on the last weekend in March approaches, the customer's frequent demand for control of various devices or appliances based on real time, regardless of its alternation or time variations, is again frequent. This is done by the automatic timer SHT-6 with DCF control for absolutely accuracy every time.
Classic timers generate over weeks, months and years, variations which may eventually be significant. Deviations may vary from a few seconds to minutes over time, which is a big problem if real time control is required.
When you really need the exact time
The SHT-6 timer with external DCFR-1 receiver is designed for automatic real-time control of devices and appliances, all year round without the need for continuous intervention, with minimal operating costs and maximum energy savings (e.g. - heating switch-on, pumps, fans, public lighting, but also church bells, school bells, job break announcements, etc.). Therefore, you can find the application in railway stations, airports, public and administrative buildings and other buildings.
Exact time thanks to radio signals
Appliances can be controlled with certain regular time cycles or by selected program. The SHT-6 timer is synchronized with an external DCFR-1 receiver. This will ensure that the time is based on the DCF77 signal, the so-called Frankfurt time signal. As a result, the device does not switch between winter and summer time, and thanks to the counter function, you can even see the actual operating time of the connected device
In addition to automatic and manual mode, the SHT-6 also has the option of random switching to simulate house presence, holiday mode, or time(pause) when they should be turned off, which saves you a lot of energy.
Power outages are not a problem
A standard button cell battery (CR 2032) with an estimated lifetime of up to three years is used to back up data and time. Unlike most competing devices, the SHT-6 has an easily accessible battery for replacement without removing the device.
The timer can work independently without a DCF receiver. It does not require any extra service or maintenance after installation. In the event of a mains power failure, the device maintains all set points necessary for reliable switching after power recovery.
Switching SHT-6 can be sealed; the displayed information is visible through the transparent cover. The DCF receiver is in an outdoor design with IP65 protection. The connection is two wire (polarity does not matter) and the cable length can be up to 100 m.
Overview of SHT-6 Timer Functions with DCFR-1 Receiver:
Automatic winter and summer time switch
Backlit LCD display
4 types of modes - auto / manual / random / holiday program
100 memory locations for time programs
Easy and quick setup with 4 control buttons
Data retention with power failure due to battery power (up to 3 years back-up time)
Sealable transparent front panel cover
Selection of menu display - EN / EN / EN / ES / PL / HU / RU
Further information, datasheet and manual can be found here: SHT-6 | DCFR-1
Date of publication: 27. 03. 2019
Calendar
Customer Centre
Technical support
| | |
| --- | --- |
| | +420 800 100 671 |
| | support@elkoep.com |
SALES
| | |
| --- | --- |
| | +420 573 514 221 |
| | sales@elkoep.com |