Two ELKO EP contributions to Bhutanese Happiness
Additional information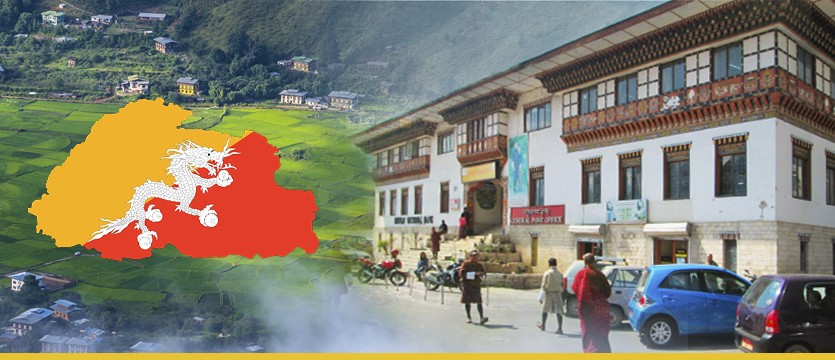 In Bhutan, a South Asian country neighbouring India and Tibet where the national happiness index plays a larger role than economic prosperity, ELKO EP, in collaboration with SAP Automation company, is currently implementing two major projects. Both are located in the capital of Thimpu. They are at the building of the Bhutan National Bank and the Toyota showroom.
The Bhutan National Bank is a four-storey building of typical Bhutanese appearance and architecture. Bhutan is very protective of its traditions, which is reflected in the building industry and the costumes of local people. In particular, we are providing lighting and control of the lighting. The whole building has more than 2,000 lights. Their control is based on central and outdoor intensity controllers utilising EST and RF touch control. Together, more than 300 iNELS units take care of the entire building, we also cater for fire detectors, shading technology and air conditioning.
The second project is the Toyota branch and showroom. This project was created through joint collaboration with STCBL (State Trading Corporation of Bhutan). We primarily control the complete lighting system, Daikin ventilation systems, building input control systems, outdoor light intensity controllers and smoke detectors. The control system of the entire system is responsible for the operation of 188 light circuits. The operation is possible through the touch panels EST, GSB, Interra drivers and iHC application for tablets and smart phones.
Already last year, in Bhutan, we completed our very first project in the country; in probably it's most famous building, the 51.5-meter-high statue of Buddha Dordenma. Here our smart wiring controls the complete lighting control in the historic parts of the interior, the lighting scene, depending on the movement of the guests, and the security system for entry and movement around the monument.
Date of publication: 05. 10. 2017
Calendar
1

2

3

4

5

6

7

Middle East Energy 2023 ( Trainings and Exhibitions )

8

Middle East Energy 2023 ( Trainings and Exhibitions )

9

Middle East Energy 2023 ( Trainings and Exhibitions )

10

11

12

13

14

15

16

iDM3 - Functions and logics ( Trainings and Exhibitions )

17

18

19

20

21

22

23

24

25

26

27

28

29

Architectural building week Bulgaria ( Trainings and Exhibitions )

30

Architectural building week Bulgaria ( Trainings and Exhibitions )

31

Architectural building week Bulgaria ( Trainings and Exhibitions )
Customer Centre
Technical support
| | |
| --- | --- |
| | +420 800 100 671 |
| | support@elkoep.com |
SALES
| | |
| --- | --- |
| | +420 573 514 221 |
| | sales@elkoep.com |