Czech technology will help Egypt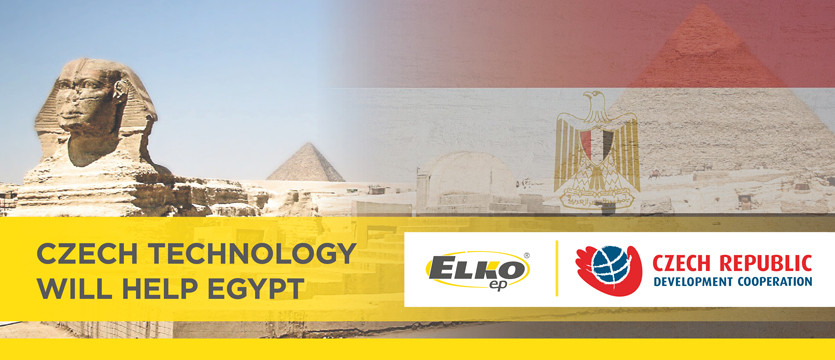 Modern building management, efficient management of energy consumption, careful water management and reduction of emissions - these are the main goals of the activities to help improve everyday life in Egypt in the coming years. The project, which is being created with the support of the Czech Development Agency, focuses mainly on modern and smart technologies.
ELKO EP, the Holešov Company, which has long been one of the leading Czech exporters and at the same time innovators in the field of electronic devices, home and office automation, is currently actively preparing to enter construction projects in Egypt. The Czech state is making a significant financial contribution to this activity within the Development Partnership Program for the Private Sector (B2B Program).

Today, savings, a higher standard of living and respect for environmental protection are an extraordinary topic in the popular tourist destination of many Czech tourists. Giant complexes are being built here - there will be the first intelligent district within the metropolis of Cairo containing 20 million people in the near future. Part of these new constructions, residential and administrative complexes, will also to include modern technologies and technology for the management and administration of buildings.
"We deliver our solutions to more than sixty countries around the world, and Egypt is not missing out among them - because we are very active in Arab countries. But the development project under the auspices of the Czech institutions brings completely different possibilities for further cooperation. Egypt has extraordinary potential due to its high construction activity and willingness to take on foreign production and implement it in local projects. Our goal is to convince the Egyptians that investing in smart technologies today is not a whim, but a necessity, if you really want to save time, energy and nature. We believe that we will succeed; we will get suitable partners and consultants for Czech solutions. We would also like to establish a relationship with potential development companies and centres, "says Jiří Konečný, owner and founder of ELKO EP, which since 1993 has developed into one of the leading European leaders in the development and production of electronic devices, relays and smart technology.
The project with the subtitle "Development of Smart Homes and Smart Buildings in Egypt" will deliver effective management and administration of buildings or larger complexes, especially those newly built.
"We see a great opportunity to be part of the construction of New Cairo and New Capital, essentially new modern cities, which are among the largest projects in recent years in all of Africa. Our great advantage is the references we have made in culturally related countries - in Saudi Arabia, Kuwait, the United Arab Emirates and Qatar. We know that we offer truly professional technologies in wireless and bus design. ELKO EP systems can do everything from monitoring, control to reporting, "adds Jiří Konečný.
The project is supported by the Czech Development Agency and the Ministry of Foreign Affairs of the Czech Republic within the framework of the Czech Republic's Foreign Development Cooperation Program.
Date of publication: 07. 04. 2021
Calendar
Customer Centre
Technical support
| | |
| --- | --- |
| | +420 800 100 671 |
| | support@elkoep.com |
SALES
| | |
| --- | --- |
| | +420 573 514 221 |
| | sales@elkoep.com |