DECOR Hotel 2017, this year for the first time in Portugal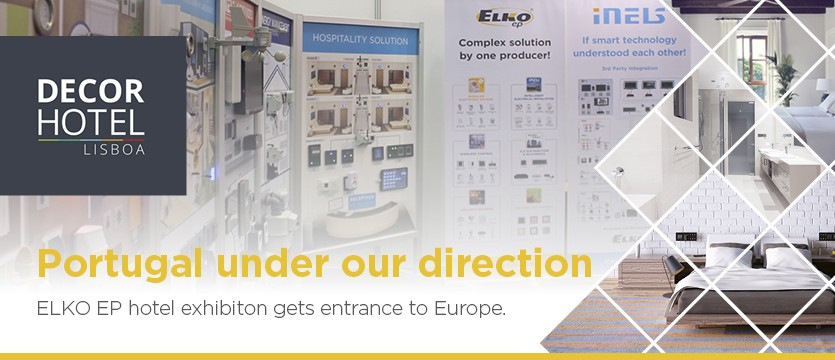 DECOR Hotel 2017 in Lisbon – another of the exhibitions we have attended and demonstrated our professional solutions, services and equipment for hotels and other types of accommodation facilities.
From Thursday to Saturday, November 2-4, the Portuguese hotel managers and owners admired different technological solutions including those offered by our company.
ELKO EP introduced the iNELS wireless control system for control of audio / video equipment, energy measurement in buildings and in particular iNELS Hospitality solutions, consisting of HRESK and GRMS systems, using interactive Wireless Control, RF Control panels. These two systems differ primarily due to (wireless x wired), the related installation method, and the range of capabilities and functions.
If you are interested in the theme of a smart hotel solution, look at the video and our catalogue.
Date of publication: 14. 11. 2017
Information about the company
ELKO EP is one of the world's leading manufacturers of electronic equipment for residential, office and industrial automation. We have been supplying the world over for the past 27 years; our main domain is primarily relays, but we also supply wireless products and IoT products. But we're not just focused on products; we also propose comprehensive and highly effective solutions.
Our branches are located in 13 countries around the world, but all developments and production takes place in our own premises in Holešov. Thanks to this background, we have received several important awards, such as the Visionary of the Year 2015 or the Global Exporter in 2016.
Calendar
Customer Centre
Technical support
| | |
| --- | --- |
| | +420 573 514 242 |
| | support@elkoep.com |
Complaints technician
| | |
| --- | --- |
| | +420 770 177 028 |
| | balla@elkoep.com |