Demonstrating the possibilities of iNELS RF Control
Additional information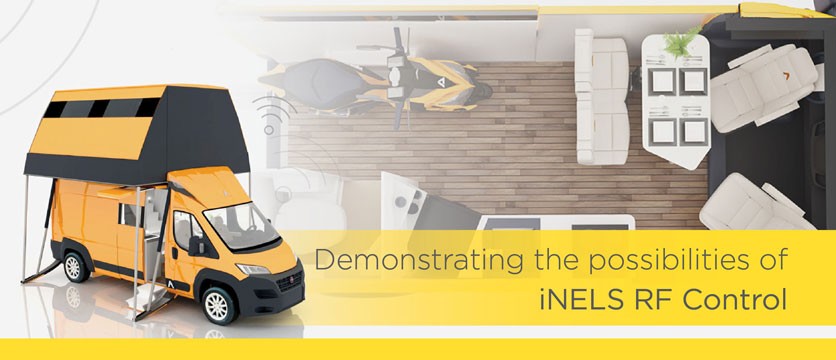 Homester is packed with a state-of-the-art intelligent system where you can control all the features at a distance, from the comfort of the caravan seat, or from outside, just by using your smartphone and unique A1 Application. The application communicates through a special eLAN-RF-003-Wi Smart Box installed in the vehicle that receives the wifi command from your handy (PDA, tablet), converts the signal to a radio command, and through a special actuator turns on, or disables any selected function.
Using A1 App, you can unlock camper, tilt and close the entrance door with integrated stairs, control the lights throughout the vehicle, lift or lower the top floor, push or slide the washbasin with the table on the top floor, open the kitchen wall with extra desktop, or level your motorhome position using four Independently controlled stabilizing leg-supports. Other additional systems such as heating, air conditioning, power stations or various multimedia devices can be controlled by the application as well.
A1 App will monitor your wifi cameras, so you can watch the events around your camper on the screen of your mobile, tablet, or TV, as well as the interior of the top floor, during the roof launch, or even parking maneuvering. The application checks and informs your weather prediction, the indoor and outdoor sensors are sending the actual temperature data several times per minute, various warning sensors monitor the gas leakage, water, or violent disturbance of the vehicle from outside. The Smart Box is synchronized with the satellite WiFi router (no local SIM card is needed), which provides a worldwide internet connection for the whole crew.
In case you do not use a smart phone, PDA, tablet, etc. or you own an older model without a touch screen, the A1 App provides the Pilot remote control with a color display. If you do not even have a mobile phone, and your Pilot remote control is lost or unavailable, every actuator controlling each device in camper can be equipped with a separate wireless wall switch, that sticks wherever you want and can be used as a classic mechanical switch. Whatever the number of switches and their features are used, the A1 App still provides you with a status check on the display whether it is OFF or ON and its simultaneous remote controlling.
Date of publication: 26. 11. 2019
Calendar
Customer Centre
Technical support
| | |
| --- | --- |
| | +420 800 100 671 |
| | support@elkoep.com |
SALES
| | |
| --- | --- |
| | +420 573 514 221 |
| | sales@elkoep.com |