Controlled dimmer DIM-6
Additional information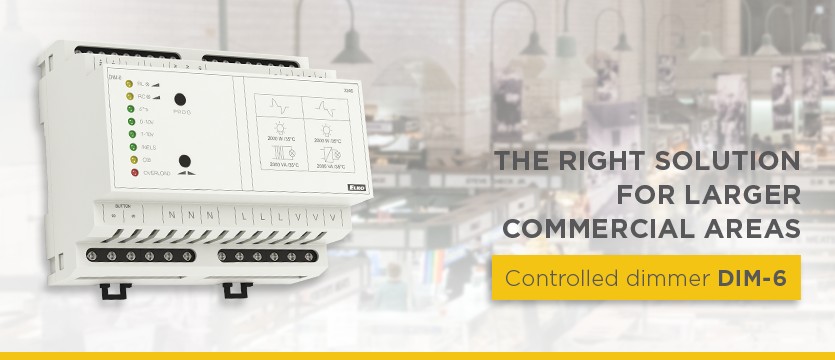 The controlled dimmer DIM-6 is the right solution for lighting control mainly in larger commercial areas with a large number of luminaires. It is utilized, for example, in shopping centres, cinemas, offices, restaurants or manufacturing halls
This is due to the high capacity of 2,000 watts, which can be extended to 10,000 watts using the DIM-6-3M-P additional modules. It is designed for dimming R, L, C or dimmable LED bulbs.
Due to the high load, the controller dimmers produce a large amount of heat that can adversely affect the functionality of the device. Therefore, the ELKO EP dimmer is equipped with an integrated fan that efficiently drains excess heat from the device. This increases the overall stability and durability of the device.
You can control the dimmer in several ways. On the one hand, using the buttons directly on the instrument, potentiometer, or via the wireless RFDAC-71B via a 0-10V signal, which can be controlled by a remote key fob, switch or smartphone. The dimmer is manufactured in a 6-MODUL version with DIN rail mounting. The basic unit is available from the price of three thousand crowns.
Date of publication: 15. 02. 2018
Calendar
Customer Centre
Technical support
| | |
| --- | --- |
| | +420 800 100 671 |
| | support@elkoep.com |
SALES
| | |
| --- | --- |
| | +420 573 514 221 |
| | sales@elkoep.com |