Controlled dimmer DIM-6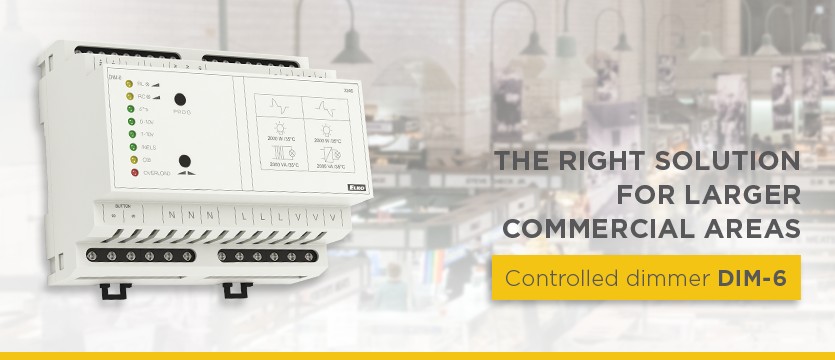 The controlled dimmer DIM-6 is the right solution for lighting control mainly in larger commercial areas with a large number of luminaires. It is utilized, for example, in shopping centres, cinemas, offices, restaurants or manufacturing halls
This is due to the high capacity of 2,000 watts, which can be extended to 10,000 watts using the DIM-6-3M-P additional modules. It is designed for dimming R, L, C or dimmable LED bulbs.
Due to the high load, the controller dimmers produce a large amount of heat that can adversely affect the functionality of the device. Therefore, the ELKO EP dimmer is equipped with an integrated fan that efficiently drains excess heat from the device. This increases the overall stability and durability of the device.
You can control the dimmer in several ways. On the one hand, using the buttons directly on the instrument, potentiometer, or via the wireless RFDAC-71B via a 0-10V signal, which can be controlled by a remote key fob, switch or smartphone. The dimmer is manufactured in a 6-MODUL version with DIN rail mounting. The basic unit is available from the price of three thousand crowns.
Date of publication: 15. 02. 2018
Information about the company
Millions of Relays, Thousands of satisfied Customers, Hundreds of local staff, Twenty Five Years of Research, Development and Production, Fifteen Foreign Branches , but just ONE Company , ELKO EP, an innovative Czech company, where R&D, Production, Logistics, Service and Support all take place in our expanding Headquarters in Holešov. We are mainly focused our very own systems designed for Hospitality, Health Care, Smart Cities and the Internet of Things (IoT).
ELKO EP employs nearly 240 people, exports to over 70 countries around the world and has 15 foreign branches. Czech company of the year 2012, Top 100 Czech Companies, Visionary of the Year 2015 and Global Exporter in 2016 are just a few of the awards received and we are not finished, We continually strive for innovation and development because we care.
Calendar
1

2

3

MosBuild 2018 (Školení a výstavy)

4

5

6

7

8

9

10

Training for export partners (Školení a výstavy)

11

Coneco Racioenergia 2018 (Školení a výstavy)
Construma 2018 (Školení a výstavy)

12

13

14

15

16

17

Wired electroinstallation (RF) - webinar (Školení a výstavy)

18

Wired electroinstallation (BUS) - webinar (Školení a výstavy)

19

Wired electroinstallation (BUS) - webinar (Školení a výstavy)

20

21

22

23

24

Wireless electroinstallation (RF) - training (Školení a výstavy)

25

Timers/Relays - webinar (Školení a výstavy)

26

27

28

29

30
Customer Centre
Infoline
| | |
| --- | --- |
| | +420 573 514 221 |
| | elko@elkoep.com |
Technical support
| | |
| --- | --- |
| | +420 778 427 366 |
| | support@elkoep.com |