Dive into news from iNELS and ELKO EP world
Additional information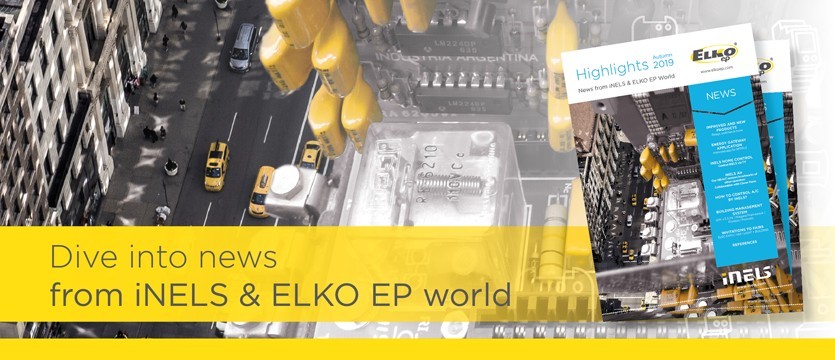 Allow us to introduce you to the new Highlights brochure, where you can find a summary of the latest and most recent innovations.
Let's start in the relay area. The biggest innovation is the bi-stable relays of the BR series, or pulse relays, which are mainly used for remote control of lighting from multiple locations. The advantage of these relays is silent switching on and no power consumption off. Functional and design improvements have also been made to the staircase automation, which can be expected in the new year at the beginning of 2020. Improvements will include, for example, higher stability of mounting on DIN rail, vibration resistance or new special material Xantar MX 1094 for high UV stability and longer lifetime.
From the wireless world you may be interested in the new glass controller RFDW-71B, which is a combination of two products into one universal dimmer the RFDEL-71B and wireless switch RFWB-40. The improved RFIO2 communication protocol, which provides greater stability, combines a greater number of individual components into the communication circuit and eliminates signal interference between them. An RFAF / USB service key that will assist you in playing firmware in iNELS RF Controls (RFIO2). Enhanced RFPM-2 energy gateway application, smart TV system control and last but not least, a demonstration of a possible solution for automatic lighting control in hotel rooms.
In the field of IoT products, you will find out what operators our NB-IoT sensors are compatible with, or what is the collaboration of iNELS Air sensors and detectors and Clever Farm, which develops and deploys smart solutions in various agricultural fields.
The bus system provides a demonstration of A / C control, a version of the latest iDM setup software update, building management system (BMS) information via the Promotic platform or Niagara software and hardware solutions, and more.
Implementation of software support between Flowbox and iNELS will be completed in the near future, allowing users to safely control and monitor our devices.
More information about these news and many more you can find HERE.
Date of publication: 11. 11. 2019
Calendar
Customer Centre
Technical support
| | |
| --- | --- |
| | +420 800 100 671 |
| | support@elkoep.com |
SALES
| | |
| --- | --- |
| | +420 573 514 221 |
| | sales@elkoep.com |