Don't switch and run around. Control the whole house
from TV
Additional information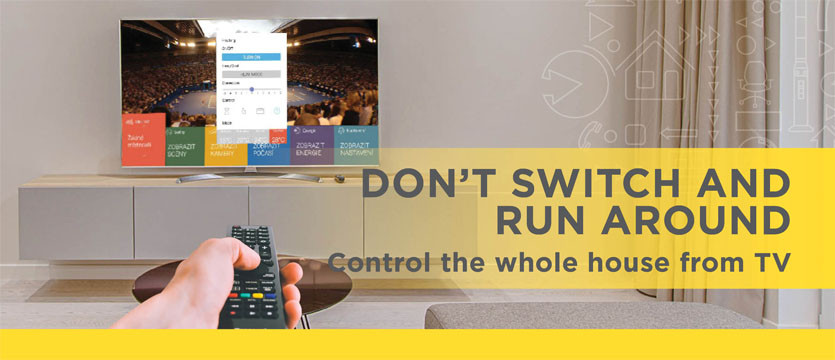 You do not have to go anywhere, you do not have to manually switch the current running program, and you do not have to run around doing anything difficult. Just keep sitting on your bunk while controlling the whole home with the app you have on your TV. Lights, air conditioning, heating, garage doors, cameras, outdoor blinds or other home appliances such as refrigerator or washing machine.
This is at least the interconnection of several brands that have been setting trends in the development of smart home appliances in recent years. Samsung TVs with advanced
Smart TV
features and iNELS electrical installations who have developed their own iNELS Home TV Control application. With it, you simply select a room and control the scenes and individual devices in that room. Or view a stream from your camera or the weather at a pre-set location. If you wish, you can view current water and gas consumption directly on the TV. On your TV you suddenly see a reality show taking place right now and it is your own home.
"TV hardware is getting better, just like on smartphones or tablets, that means that more demanding applications can go there rather than just browsers or streams. It started with hotel televisions, but we cloned the application into a consumer line that is already so powerful today, "says Jiří Konečný, owner of ELKO EP, which exports intelligent electrical installations to more than 80 countries around the world.
While before, smart phone manufacturers in homes, offices, or hotels have primarily tried to showcase and develop their own mobile applications with which everyone can control their own devices, today the situation is changing. The application is increasingly running in the background without people having to notice or be interested in them.
Trend? Simplicity!
The result is an application that allows each user to control the house directly using a television controller, which, according to Jiří Konečný, is one of the basic trends in the development of smart technologies. "People generally don't want to have many applications, each of which they have to take care of. That's why we decided to use the device we are most used to controlling. That was, is and will be the television for some time. It is practically in every home, and we are used to using the controller intuitively. "
The application controls all household products that are connected to iNELS. This means lights, air conditioning, heating, cooling, blinds or any appliances that you have connected to the sockets. Use the keyboard, mouse or regular TV to control the app."
The application can run on an unlimited number of devices. Just take the IP address of one device that is downloading data. This is entered in the interface, downloads the data itself and you do not need to do anything else, just click and use the application. Similarly with updates, you always do everything on the TV once. All you need is an internet connection and a markethub, "adds technical specialist Petr Petrák's.
Date of publication: 18. 03. 2020
Calendar
Customer Centre
Technical support
| | |
| --- | --- |
| | +420 800 100 671 |
| | support@elkoep.com |
SALES
| | |
| --- | --- |
| | +420 573 514 221 |
| | sales@elkoep.com |