ELKO EP and Holešovská Regata are again on the same wave lenght.
Additional information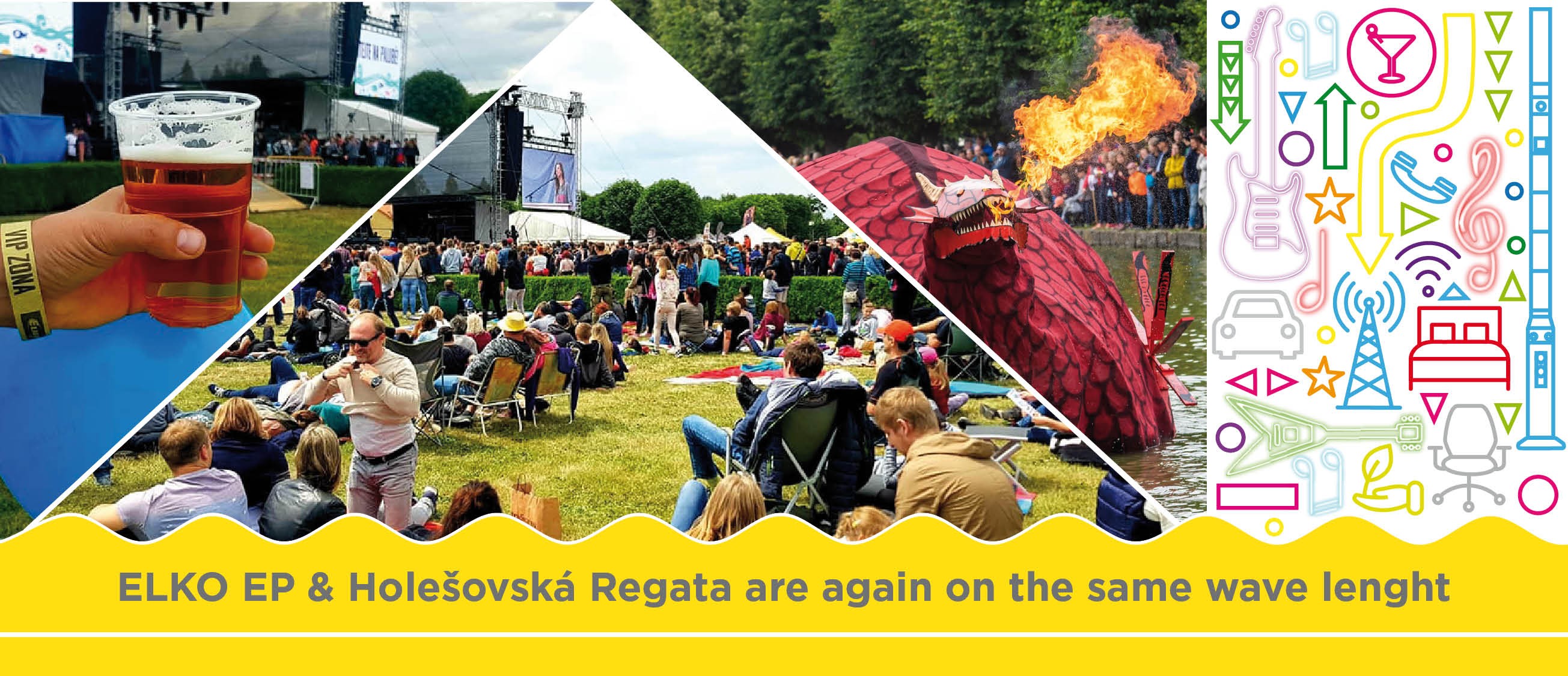 On Friday, 21st and Saturday 22nd of June the gardens of Holešov Chateau will fill fans of Czech and Slovak music, ready for good entertainment and unusual experiences. For the ninth time there will be the spectacular family festival called the Holešov Regatta, whose main partner is again ELKO EP.
S ELKO EP is the traditional main partner of this grand family festival. "We are proud partners of the Holešov Regatta and we can only wish for such great events to continue in Holešov," said Jiří Konečný, Managing Director and founder of the company. This year, ELKO EP will present its Smart Pole at the Regatta, including examples of charging electro mobility, specifically electric cars and electric scooters, which will also be available for visitors to ride.
You will experience a lot of e-fun in our e-meadow amongst other things, waiting for you:
Zoo - full of smart IoT cows; they blink, change colour, love to take pictures and enjoy juice for their thirsty mobiles, tablets, cameras and power bank
Electric Car - See how easy it is to charge your e-car with our Smart Pole
Electric scooters - try slalom or take a ride around the area
Boating - romantic rides in the chateau park, ideal for unconventional hunters
In addition, we are preparing not only a number of competitions, but also introducing news from our range of products, such as Smart Agriculture or the IoT segment for Smart Cities from the iNELS Air product line. Visitors will certainly be interested in the opportunity to try the functioning of the so-called iNELS Smart Home, which automates the operation of the whole household and brings not only new comfort of living, but also significant savings.
As every year, we will be organizing the Open Day at ELKO EP for all those interested on the Saturday.
Holesov regatta full of musical stars
Friday's program of the Holesov Regatta is named "Slovak Party". It will be launched by hit-maker Vašo Patejdl with his band with a mix of hits "from Elán to Fontána", the band Desmod, led by Mário Kula Kollár, and the legendary Tublatanka with Maťo Ďurinda.
S Saturday will again be very musical. For the third time, singer Richard Krajčo will present himself at Regatta, this time with saxophonist Nikos Grigoriadis, who will play the greatest hits of Kryštof in an acoustic performance. Furthermore, we can look forward to the swing showman Ondřej Havelka with his Melody Makers, Jelen, Wohnout or Tata Bojs, who will celebrate the 30th anniversary of the the Regatta and will complete the one-hour set of their biggest hits with a fireworks Grande Finale.
Accompanying program for young and old
In addition to great musical performances, visitors can enjoy a rich accompanying program. Traditionally, the greatest attention will be paid to the show of unconventional vessels and the competition in crossing the water bridge on the wheels. The Holešov Regatta also includes dragon boat rides and other attractions that are always completely free for spectators in the area.
There will also be slackline workshops under the supervision of world champions in this attractive discipline. In the chateau courtyard there will be a children's zone with a lot of attractions, such as a puppet theatre, which will be a example of the ongoing Puppets and Puppet Theatre exhibition in Holešov Castle.
Remember that children up to the age of seven have free entrance with their parents, and all the attractions are also free for all. The organizing agency Whale Program constantly enhances and complements if you need further convincing visit www.holesovskaregata.cz
Date of publication: 17. 05. 2019
Calendar
Customer Centre
Technical support
| | |
| --- | --- |
| | +420 800 100 671 |
| | support@elkoep.com |
SALES
| | |
| --- | --- |
| | +420 573 514 221 |
| | sales@elkoep.com |