ELKO EP at the URBIS fair
Additional information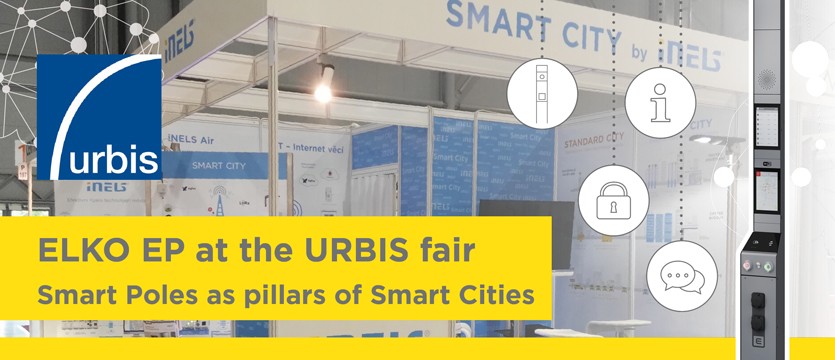 After a year, the project returns to the Brno Exhibition Center, the only one in Central Europe that focuses on Smart City. The second edition of the URBIS Smart City Fair will take place in two pavilions and with a rich accompanying program. ELKO EP will also present its smart technologies and comprehensive IoT solutions.
Smart Poles for smart cities
As at the recent Amper fair in Brno, the focus of ELKO EP's presentation will be its modular Smart Pole, which is literally packed with technology. At 4.5 meters, it can carry up to 17 technologies - from wireless cell charging and a contactless card reader, through touch screen information, camera, smart motion and air quality sensors, and Wi-Fi hotspot to car charging station. All this with a simple possibility of checking, evaluating the sensed parameters and remote control from the dispatching center within the entire smart city network.
Solutions for every place and city
So thanks to IoT, we have integrated the available urban service technologies. The Smart Pole offers a comprehensive solution with an intuitive, easy-to-use user interface that features 4 basic features: modularity, information, security and communication. Solutions that will give residents access to useful technologies, information and make them feel safer. A smart pole grows with the needs of every place or city. There are four basic variations: Charger, Kiosk, City and Street. It is this highly equipped and smart technology which will literally dominate our presentation at URBIS.
URBIS Smart City Fair
URBIS brings together a clever combination of the trade fair with an exclusive conference program, where Smart City leaders will introduce themselves. In two days, dozens of Central European towns and villages and leaders in innovation will meet with one goal - to pass on experiences, ideas and examples of concrete solutions to how to properly develop the Smart City concept in cities. So that people can live better lives in them.
The URBIS Smart City Fair will take place from 5 to 6 June at the Brno Exhibition Center. You can find the presentation of ELKO EP in Pavilion G1 under the designation 04. More information is available at https://www.bvv.cz/en/urbis/
Date of publication: 29. 05. 2019
Calendar
Customer Centre
Technical support
| | |
| --- | --- |
| | +420 800 100 671 |
| | support@elkoep.com |
SALES
| | |
| --- | --- |
| | +420 573 514 221 |
| | sales@elkoep.com |