ELKO EP is a partner of the FORTUNA:LIGA football League
Additional information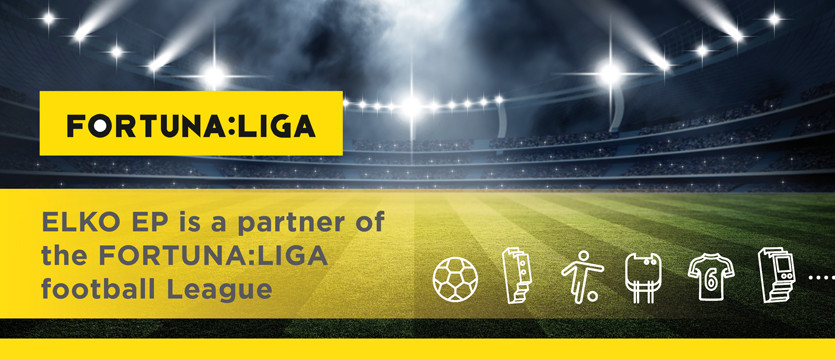 The league break is over and the football carousel of professional football will start at full speed on Friday. This year's highest competition, the FORTUNA football league, will be unique in many ways. For the first time in the history of independent Czech football, eighteen teams will enter the highest competition. In most stadiums, the video referee will be fully operational. Each match will be accompanied by strict hygiene measures, and at least at the start of the competition, there will be some restrictions waiting for players and fans to help prevent the spread of coronavirus. Throughout the season, the Holešov Company ELKO EP will also be one of the league's most important partners.
One of the world's leading manufacturers of electronic devices, wireless systems and intelligent electro installations will partner with the LFA for one year. Elko EP has been supplying relays, smart home products, building management solutions and hotel electrical equipment worldwide for 27 years and is now becoming a major partner in league football in the Czech Republic. "For more than two decades, we have been trying to develop and manufacture 'premier league devices' that have a resounding name not only in our country, but also beyond the borders of our country, so it is a challenge for us to connect with the first football league. Because we are doing well even in this difficult "corona time", we decided to support the most popular sport in our country, "said Jiří Konečný, chairman of the board of Elko EP holding, which has received several important awards in the past, such as the Company of the Year, Visionary of the Year, Global Exporter and Superbrands 2019 and 2020.
The league will start with Friday's duel between the second placed Pilsen and Opava and the fans will watch an unusual nine matches in each round. Three clubs will descend and five representatives will advance to the cups as in previous years. The fans will see the teams at both ends of the table and the clubs have armed their staff during the entire summer break. At the same time as the highest competition, FORTUNA: NATIONAL LEAGUE also starts, from which the winning team will directly advance to among the elite, and more candidates will certainly fight for the lead there as well. "For the 2021/22 competition year, we intend to return to the model of sixteen clubs in both competitions. That is also why we approved changes in the competition rules at the last league board, so that in the event of force majeure we would not get into the same stalemate as a few months ago, "Dušan Svoboda announced to the last meeting of league clubs.
Schedule:
August 21-23, 2020 - 1st round matches F: L and F: NL
November 21-22, 2020 - Matches of the 12th round F: NL, the last round in the fall
December 19-20, 2020 - Matches of the 15th round of F: L, the last round in the autumn
January 30-31, 2021 - Matches of the 16th round of F: L, the first in the spring
March 6-7, 2021 - Matches of the 13th round of F: NL, the first in the spring
May 28, 2021 - matches of the last 34th round F: L
May 29, 2021 - matches of the last 28th round F: NL
Photos from the press conference: LFA
Date of publication: 21. 08. 2020
Calendar
Customer Centre
Technical support
| | |
| --- | --- |
| | +420 800 100 671 |
| | support@elkoep.com |
SALES
| | |
| --- | --- |
| | +420 573 514 221 |
| | sales@elkoep.com |