ENERGETAB 2019 ELKO EP at the largest trade fair in Poland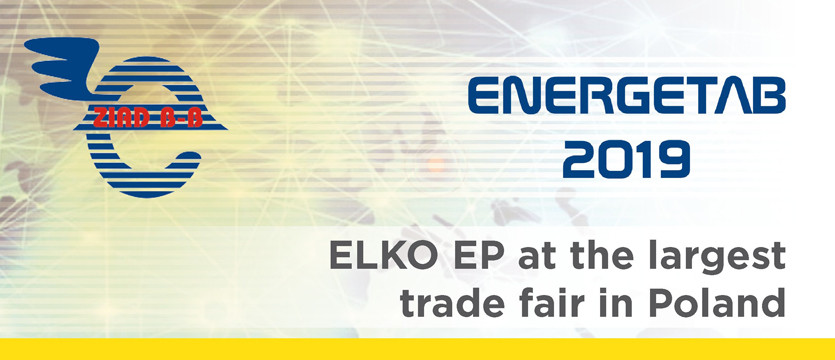 From September 17 to 19, 2019, the 32nd edition of the International Fair of Modern Equipment, Instruments and Technologies in the Energy Industry - ENERGETAB 2019 will be held in Bielsko-Biała, Poland. Among the more than 700 exhibitors from 24 countries, will be our very own Czech company ELKO EP.
"We consider Energetab to be one of the best opportunities to meet our existing and potential future customers so that we can show them the best of our production in one place," says Jan Kapitanov, director of ELKO EP Poland.
"We have prepared a number of new innovations and updates in a wide portfolio of modular electronic devices that excel not only in precise quality, but also in parameters that competitors can only dream of," adds Jan Kapitanov.
At the Energetab trade fair we will present, among others:
Time, control and monitoring relays
Staircase switches
Timers
Twilight switches
Dimmer and lighting controllers
Control and signalling devices
Power supplies
For a wide range of relays and other ELKO EP devices, visit Hall O at Stand 16. Admission is FREE. Detailed information can be found HERE >>
Date of publication: 04. 09. 2019
Information about the company
ELKO EP is one of the world's leading manufacturers of electronic equipment for residential, office and industrial automation. We have been supplying the world over for the past 27 years; our main domain is primarily relays, but we also supply wireless products and IoT products. But we're not just focused on products; we also propose comprehensive and highly effective solutions.
Our branches are located in 13 countries around the world, but all developments and production takes place in our own premises in Holešov. Thanks to this background, we have received several important awards, such as the Visionary of the Year 2015 or the Global Exporter in 2016.
Calendar
Customer Centre
Technical support
| | |
| --- | --- |
| | +420 573 514 242 |
| | support@elkoep.com |
Complaints technician
| | |
| --- | --- |
| | +420 770 177 028 |
| | balla@elkoep.com |