ETIM 6.0 is available at ELKO EP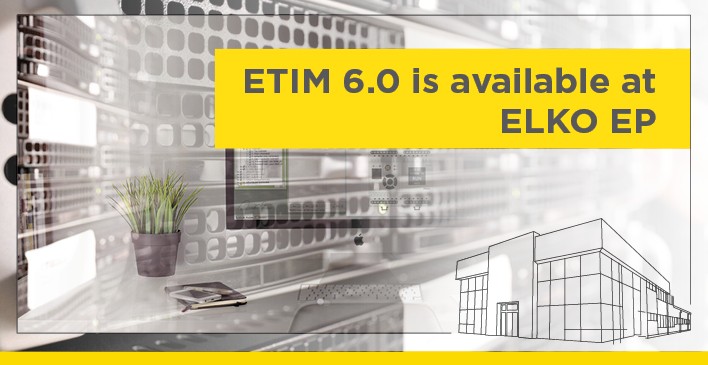 We have an updated version of ETIM 6.0. It includes 2 582 items in Czech and English and contains almost all the product lines from the ELKO EP portfolio. The standardized database will help business partners, especially wholesalers, as well as resellers of electrical equipment, to find products more easily based on their class name or technical characteristics.
ETIM, or the European Technical Information Model, is an internationally standardized electro-technical database of products designed for wholesalers and partners. It is a set of information in BMEcat format, which is a standard for special computer programs that can process this information for various purposes, especially for use in wholesale e-shops. It therefore offers a uniform technical description of the electrical goods independent of the language used.
The file carries for each individual element not only the conventional data of the manufacturer, graphical files, catalogue sheets and instructions, but also internationally defined parameters that can then be compared and sorted together.

"I am extremely happy that ELKO EP can boast about this database. ETIM is a European standard, so I am really pleased that we can join it. Creating entries for all of our 2 582 items took us 4 months, but the result is worth it, and having also had it confirmed by the two independent chains of wholesalers we've consulted with, "explains Bronislav Mašík, product manager for ELKO EP.
At present, the ELKO EP database is available in Czech and English. In the future, Slovak, German, Polish, Hungarian, Spanish and Croatian language versions are planned.
It contains:
Product documentation
Product catalogues
Product manuals
Technical Specifications
Czech version ETIM: https://www.elkoep.cz/etim
English version ETIM: https://www.elkoep.com/etim-eng
Date of publication: 31. 10. 2018
Calendar
Customer Centre
Technical support
| | |
| --- | --- |
| | +420 800 100 671 |
| | support@elkoep.com |
SALES
| | |
| --- | --- |
| | +420 573 514 221 |
| | sales@elkoep.com |