"Finnish Athens" the lights shone in the Sähkö Tele Valo AVV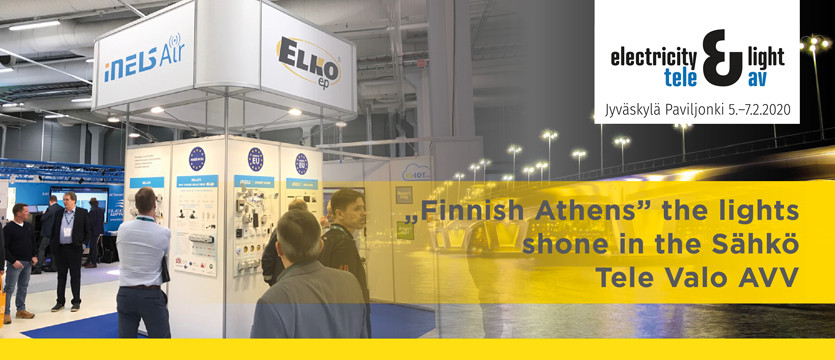 Sähkö Telo Valo Av is the largest traditional international trade fair for the electrical industry, held annually in Finland's seventh largest city, Jyväskylä, also known as "Finnish Athens".
From 5th to 7th February 2020 at the Finnish Exhibition Centre nearly 300 manufacturers or sellers of electrical engineering exhibited, which attracted literally thousands of experts. Among the exhibitors we presented our products iNELS Air for IoT technology.
For the Internet of Things, we offered a smart city solution where visitors could see smart poles, street lighting sensors and garbage bin sensor, amongst others. For smart agriculture, we introduced a weather station, a sensor for measuring air humidity, temperature and atmospheric pressure, and a sensor for measuring soil moisture. You can learn more about these detectors in our animation.
One of the other areas of IoT products are smart buildings, where we focused on smoke detectors, CO2 air quality, CO air quality, motion, flooding or a door or window control sensor.
In addition, we introduced our standard smart home solutions via iNELS BUS, RF Control wireless or Building Management System (BMS). Of course, there were also classic relays, which always find their buyer.
Just as this exhibition was successful, so we expect success at the stands to continue at other exhibitions. Dates and places of exhibitions you can see in our calendar:
Date of publication: 11. 02. 2020
Information about the company
ELKO EP is one of the world's leading manufacturers of electronic equipment for residential, office and industrial automation. We have been supplying the world over for the past 27 years; our main domain is primarily relays, but we also supply wireless products and IoT products. But we're not just focused on products; we also propose comprehensive and highly effective solutions.
Our branches are located in 13 countries around the world, but all developments and production takes place in our own premises in Holešov. Thanks to this background, we have received several important awards, such as the Visionary of the Year 2015 or the Global Exporter in 2016.
Calendar
Customer Centre
Technical support
| | |
| --- | --- |
| | +420 573 514 242 |
| | support@elkoep.com |
Complaints technician
| | |
| --- | --- |
| | +420 770 177 028 |
| | balla@elkoep.com |