Football World Cup and Technology in Qatar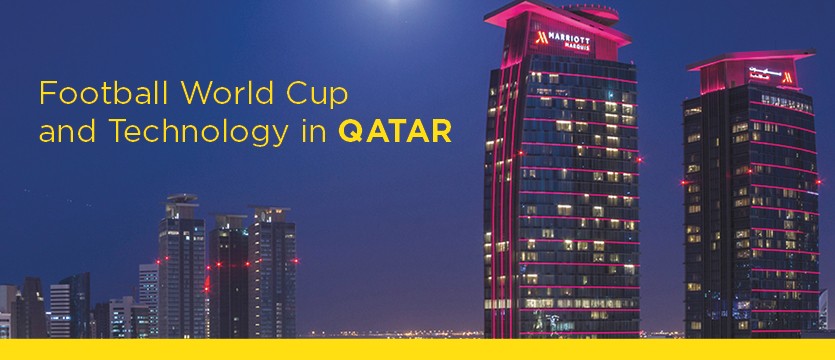 While it may seem that the 2022 World Cup in Qatar is still far away, it is not. Qatar does not want to underestimate anything, so preparations are in full swing. Marriott Marquis and Merweb hotels in the capital of Doha are no exception to this. These two luxury hotels have recently undergone modernization, which included work by the ELKO EP Company – the manufacturer of INELS, intelligent electrical installations.
The 2018 World Cup in Moscow is past. But in Qatar the word "football" is starting to be heard more and more often. The whole country is preparing for this major sporting event, and besides the sports grounds themselves, the hotel and restaurant facilities are also preparing for fans from around the world.
These include two five-star hotels in Doha - Marriott Marquis and Merweb. Both have undergone modernization in the past year. To improve customer service, the hotels have installed the iNELS RF Control wireless system with one of their system partners. In each room, four wireless switches of the glass design were printed with icons depicting the controlled devices (bedside light, main light and more).
With the recommendation of iNELS, the hotels have also used the central control function, or MASTER OFF / ON button, which switches all devices off with just one push, leading to greater savings and comfort. Thanks to the interaction of the door and motion detector, all the lights are switched off by the central lighting control unit after leaving the room and there are considerable cost savings to be made.
INELS Wireless Retrofit Solutions is advantageous because of its convenient installation. It takes no longer than 25 minutes in one room, which meant that no room was required to be closed during the reconstruction. They were all fully operational and the hotel did not lose money because of vacancies. At the same time, guests' comfort was increased considerably.
Date of publication: 24. 01. 2019
Information about the company
ELKO EP is one of the world's leading manufacturers of electronic equipment for residential, office and industrial automation. We have been supplying the world over for the past 27 years; our main domain is primarily relays, but we also supply wireless products and IoT products. But we're not just focused on products; we also propose comprehensive and highly effective solutions.
Our branches are located in 13 countries around the world, but all developments and production takes place in our own premises in Holešov. Thanks to this background, we have received several important awards, such as the Visionary of the Year 2015 or the Global Exporter in 2016.
Calendar
Customer Centre
Technical support
| | |
| --- | --- |
| | +420 573 514 242 |
| | support@elkoep.com |
Complaints technician
| | |
| --- | --- |
| | +420 770 177 028 |
| | balla@elkoep.com |