For the third time in a row. ELKO EP again amongst the Czech Business Superbrands 2021.
Additional information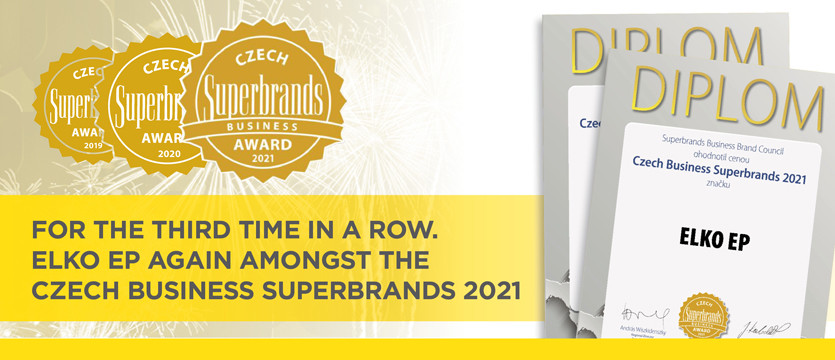 ELKO EP once again found itself on the ranking of Czech "Superbrands". For the third year in a row, the expert jury praised the company's reputation, the quality of its products and its exceptional position on the market - the basic criteria according to which they evaluate the most successful companies in its field in more than 90 countries.
The company based in Holešov has again managed to confirm the reputation of the absolute world leader in the production of electronic devices and intelligent electrical installations last year, which fundamentally shook the entire market and society. In the Czech Republic, it has a dominant share of the electrical relay market, and is the second largest manufacturer in Europe. At the same time, every year it develops a number of its own patents in the field of smart technologies and the Internet of Things. Its intelligent iNELS electrical installation is then exported to more than 70 countries around the world and is a common part of newly built or renovated hotels, offices or modern buildings.
In addition, they managed throughout the year to return their best economic results in history. Thanks to this, it was able to open two more branches at the beginning of the year and thus increase their total number to 15. "The crisis did not stop us. On the contrary, it has increased the demand for our products. These are related to automation and digitization, which are great phenomena of today. Every year we launch dozens of different patents, innovations and improvements - and at the same time we produce everything in the Czech Republic. We want to and have to stay with both. These are the two parameters that make sense to me in business. Going forward and doing business in the region to which we relate. Maybe even this philosophy is behind the award, which is coming to us for the third time, "says Jiří Konečný, CEO and founder of ELKO EP and at the same time a man who has won a number of prestigious awards in recent years, including Visionary of the Year and Global Exporter of the Year.
Superbrands is the most recognized independent global authority in the field of brand evaluation and valuation. The Supebrands title is a sign of a special position and recognition of that excellent position of the brand in the local market. Superbrands are awarded to brands with an excellent reputation - customers associate significant values with the brands and have a personal relationship with them. Since its inception in the UK, the project has gained worldwide recognition and today the Superbrands Award is recognized as a special award that annually identifies the best of the best brands on five continents based on unified criteria and methods.
Date of publication: 10. 03. 2021
Calendar
Customer Centre
Technical support
| | |
| --- | --- |
| | +420 800 100 671 |
| | support@elkoep.com |
SALES
| | |
| --- | --- |
| | +420 573 514 221 |
| | sales@elkoep.com |