Four reasons why smart installations will bring relief to your wallet.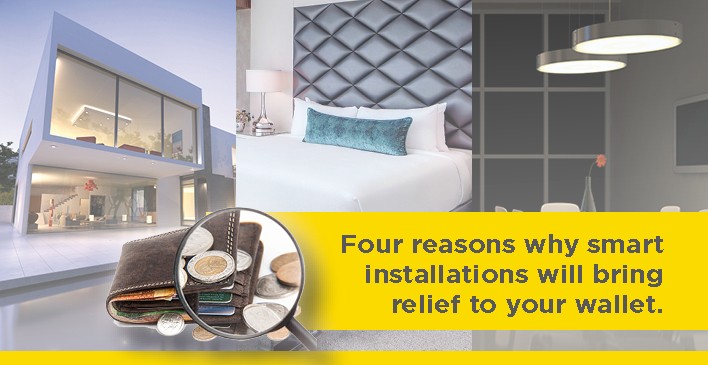 There is no doubt that a modern household must be economical. Information on how and where to save in your piggy bank is all over the Internet. But which ones are really effective and which are unnecessary? Let's talk numbers, they unlike many different marketers, don't lying.
Let's take a look at four cases where residents no longer want to waste energy and heating. Let's we compare specific numbers that tell us about the effectiveness of the chosen solution. The first apartment to visit is a three-room panel apartment in Zlin with an area of 78 m2. It is heated by a hot water system from the communal area boiler and standard thermostats are mounted on the radiators, without the possibility of setting the program. The annual heating costs are CZK 10,000. After consultations with a professional consultant of ELKO EP, a Czech manufacturer of smart installations, the owners decided to install four wireless RFATV-1 thermo-heads, which are controlled by the Touch, RF Touch Unit. The investment cost of this solution amounted to CZK 12,467 and in the first year the savings were just under 30%. Under such conditions, the investment returns in about three years, and the components are also part of the iNELS wireless solution, which can be expanded at any time to controlling lights, audio, video or home appliances. Other RF devices and components cost about a thousand crowns, so it's not too costly.
Our second stop was a medium-sized family house in Uherské Hradiště. The 130 m² house was heated by a gas boiler and eight radiators with ordinary thermostats. The discontented owner was paying 30,000, - CZK for heating per year. The control which was recommended by the ELKO EP Consultant, the same as in the previous case - the Touch, RF Touch Unit – only there were eight RFATV-1 Wireless thermo-heads this time.
And the result? The investment amounting to 18,027 CZK was returned in about two years. The annual savings climbed to just under 9,000 CZK. Again, we are moving with the iNELS system, that is, it can be extended at any time without excavation or renovation. Everything is wireless.
Another place where we were looking for evidence was a two-bedroom apartment in a brick house in the Medlánky district of Brno. Although it was a newly built residential building, the electric underfloor heating was equipped with only primitive switching based on the set temperature. The possibility of weekly programming was completely absent - the heating was often switched on unnecessarily, and remained on even with open windows. This was reflected in the heating costs of more than CZK 11,000. After the initial investment in the smart components of the iNELS wireless solution to the amount of CZK 8,766, for three pieces of digital programmable controllers and to each of them switching actuators with a temperature sensor, the savings reached more than CZK 4,000 per year. If you can count, you already know that after two years, the investment was paid back in full.
The last house was a wooden building in Vraně nad Vltavou, in a beautiful location near the river, unfortunately without gas distribution. Designers for its heating had chosen underfloor heating mats with temperature and non-weekly programmable heating mats. With an area of 141 m2, the cost to the owner was 35,000, - per year just for heating. Experts in smart wiring from ELKO EP recommended as an optimal solution to use the RF Touch, touch unit, combined with eight switching actuators with a temperature sensor. The investment did not exceed CZK 19,000 and the investment was returned to the owner in two years.
It should be noted that in all these cases there was an insufficient level of heating regulation. Manual control, which did not allow the continuous closing and opening of thermo-valves, thereby increases costs. Technological progress is moving forward very quickly, there is not a bottomless reserve of energy sources and raw materials, and savings are just one way to find new, environmentally friendly sources. Think of it when you get a surcharge for energy, you'll find it unnecessarily to light the light in an empty bedroom.
Date of publication: 30. 11. 2018
Calendar
Customer Centre
Technical support
| | |
| --- | --- |
| | +420 800 100 671 |
| | support@elkoep.com |
SALES
| | |
| --- | --- |
| | +420 573 514 221 |
| | sales@elkoep.com |