How to please your other half and not only on holiday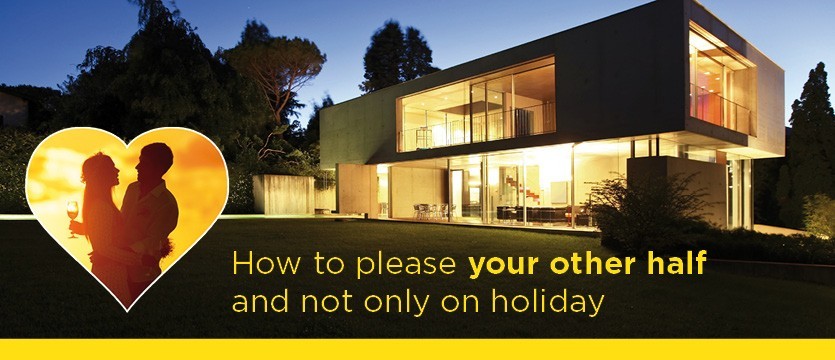 Valentine's Day, Mother's Day, International Women's Day, Birthday, Holiday. Gentlemen, let's face it, do we not delight our loved ones only a few days in the year? A flower, chocolate, a bottle of wine, or an invitation to dinner will please, but why do we not provide a more comfortable life for them and us every day? It's so easy, fast and surprisingly cheap.
Take a look at your home and figure out what you control manually, where your money goes and why not start to enjoy life as you all deserve.
Some examples:
Your rooms are hot all the time, even though no one is there during the day
You light up to 100% even when there is daylight.
You turn on but forget to turn off
You do not care that devices are consuming electricity in standby mode
You use air conditioning or ventilation uneconomically
You have an unnecessarily high energy tariff set to keep the main circuit breaker from blowing
You do not know how much energy (water, electricity and gas) you consume
You have to walk into the corridor for the doorbell or videophone
You have a lot of remote controls and you've already lost them
When you want to call the children, you have to scream at them!
You do not know what's going on at home when you're at work or on vacation
These are just a few examples from everyday life that will unnecessarily detract from the well-earned peace and comfort you deserve, and that will significantly drain your wallet. You will not have to listen to someone asking why you are drowning unnecessarily, why you are paying so much on energy bills and why you do not have the money, for at least a short vacation.
You may say that nothing can be done, or that you would have to demolish or excavate and install everything again, and it would definitely be expensive. We have good news for you!
Our smart solutions iNELS they are suitable for existing flats and homes, install without the need for building modifications, works wirelessly, communicates with each other and they provide you with the ability to monitor and control even from your smartphone, tablet or TV.
The return on investment is undeniable, not to mention the comfort. How do you handle the saved money each year - you will go to wellness, buy a dream big TV, pay your wife to have a "beauty day" in a beauty salon or save for an exotic holiday?
Start saving and enjoying yourself - start to iNELS
Check out our "Practical Tips", which will convince you that a smart home need not be complicated or expensive and necessary. To find out specifically, how much you could save each year, let us make a no-obligation quote. We will be happy to convince you that iNELS will definitely pay off...
Date of publication: 14. 02. 2019
Information about the company
ELKO EP is one of the world's leading manufacturers of electronic equipment for residential, office and industrial automation. We have been supplying the world over for the past 27 years; our main domain is primarily relays, but we also supply wireless products and IoT products. But we're not just focused on products; we also propose comprehensive and highly effective solutions.
Our branches are located in 13 countries around the world, but all developments and production takes place in our own premises in Holešov. Thanks to this background, we have received several important awards, such as the Visionary of the Year 2015 or the Global Exporter in 2016.
Calendar
Customer Centre
Technical support
| | |
| --- | --- |
| | +420 573 514 242 |
| | support@elkoep.com |
Complaints technician
| | |
| --- | --- |
| | +420 770 177 028 |
| | balla@elkoep.com |