Impulse memory relay - a proven classic in precise quality
Additional information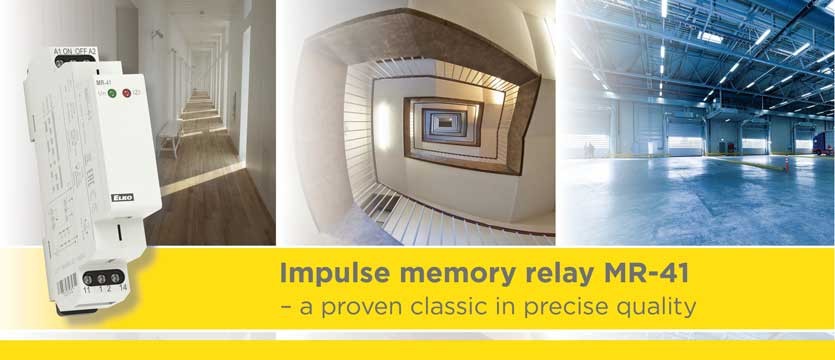 Impulse memory relays are particularly useful in controlling lighting from multiple locations, typically in residential buildings or office buildings. They replace conventional installations, saving material and wire costs significantly, and minimizing installation time. MR 41/42 relays are a proven fixture in the ELKO EP assortment with excellent quality backed by a premium 5-year warranty!
They remember their status in a power outage
The big plus of the MR-41 and MR-42 impulse relays is their ability to "remember" their state in the event of a power failure. Therefore, when power is restored, it automatically returns to pre-set state. The MR 41/42 relay is used to control a variety of appliances (lights, air conditioning, etc.), with the use of buttons to operate these devices. However, it is also possible to use external contact from another device or devices.
Easy scalability of installation
When using the MR-41/42 memory/impulse relay, the entire installation consists only of buttons connected in parallel and connected to the instrument's control input. A luminaire (or several luminaires) is usually connected to the instrument output. Another advantage of this connection is the ease of scalability when an additional control point is required.
Central ON/OFF control
MR-41/42 impulse relays provide the advantage of central control. This allows multiple relays to be switched on or off simultaneously. Imagine a multi-storey building where a memory relay is installed in the corridor on each floor, controlled by any number of buttons within the local control on the floor. The individual memory relays from each floor are then connected via a common terminal for central control to a control station (e.g. gatehouse, utility room), where all the memory relays can be switched on or off at the same time (this is useful, for example, for cleaning, security or security) that all lighting is off.
Impulse memory relays MR-41/42
Switches lighting, stairways, corridors, large rooms, control systems, automation

Relays MR-41/42 remember their status even after power failure resets so that the relay is always switched off in the event of a power failure, but automatically returns to the pre-set state when power is restored

Memory (pulse) switches controlled by multi-position illumination switches are a practical substitute for AC and cross switches

Thanks to pushbutton control (unlimited number, parallel connected by two conductors), installation becomes clearer and faster to install

The pulse relay saves you money on material and installation time thanks to the two-wire parallel button connection

Czech Product, Best Components, Precision Quality with 5 Year Warranty
The complete range can be found in the TIMERS / RELAY section.
Date of publication: 17. 06. 2019
Calendar
Customer Centre
Technical support
| | |
| --- | --- |
| | +420 800 100 671 |
| | support@elkoep.com |
SALES
| | |
| --- | --- |
| | +420 573 514 221 |
| | sales@elkoep.com |