Branch Office Opening in India
Additional information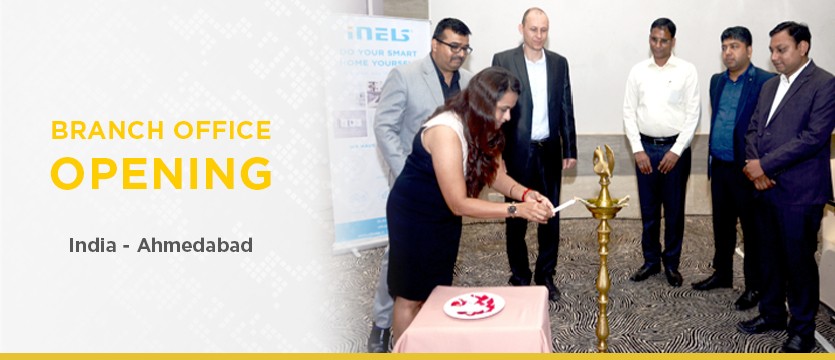 On Thursday, 7th September, one of the largest Indian cities Ahmedabad held a major event. ELKO EP has grown another foreign branch. Right in the second most populous country in the world, India.
The grand opening ceremony took place at the Marriot Hotel, with over fifty significant system partners attending the spectacular event. "The ceremony to mark the opening of a branch is just the first pleasant duty in a long series of planned steps. Currently, new showrooms are being built in Ahmedabad, New Delhi and Bangalore, we are planning to increase our turnover by five million from the current twenty, and ten technical customer trainings will take place in the course of the month." said Boris Kamenický, ELKO Business Development Manager EP.
The entire branch is divided into three individual states and forms a sophisticated business node. Headquarters headed up by Anshu Buch and is located in Gujarat within the largest city of Ahmedabad. In the north of India premises are located in the state of Haryana and in the south of India, an office in the state of Karnataka. "After careful selection we have chosen to cooperate with ELKO EP. We were looking for a company and products that would be suitable for the Indian environment, with a view to automation and the development smart solutions. ELKO EP met the best of all the criteria." explained the new director Anshu Buch.
The incentive to open a branch in India was primarily huge local business potential. In a country inhabited by more than a billion people, where more than 40 cities with over a million people are found and there is enormous diversification, more than anywhere else, (there are 16 official languages in India, more than 1600 dialects, the country is divided into 29 states, and several large religions exist next to each other), ELKO EP has long been able to multiply its annual turnover. The next logical step was therefore to move forward with its development.
The subsidiary in India does not only deal with ELKO EP's products, relays being amongst the most popular, accounting for almost 50% of the turnover. It is also responsible for the distribution of iNELS intelligent wiring. Here they have so far managed to realise an average of thirty a year, particularly relating to Smart Cities, for smart, developed and self-sufficient cities. This is currently the greatest need for Indian society and the biggest challenge. The big Indian issues are migration to cities, population growth, urban slums and the deepening of poverty and social disparities. In this respect, urban development will certainly play a key role in improving the lives of its citizens.
Date of publication: 22. 09. 2017
Calendar
Customer Centre
Technical support
| | |
| --- | --- |
| | +420 800 100 671 |
| | support@elkoep.com |
SALES
| | |
| --- | --- |
| | +420 573 514 221 |
| | sales@elkoep.com |