iNELS Home Control compatible with Tizen OS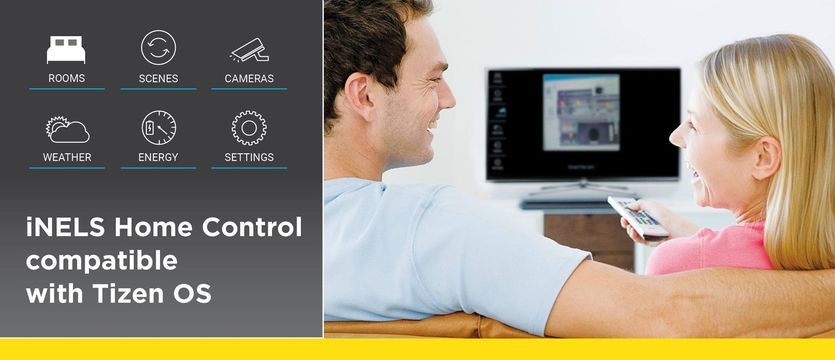 The iNELS Home Control application brings a new dimension to controlling the whole home with smart TVs, tablets and smartphones. It is now also fully compatible with the Tizen operating system for Samsung Smart TV and is free to download.
Thanks to the application, it is possible not only to switch TV programs via the TV remote control, but also to control appliances such as lights, air conditioning, heating, garage doors, cameras, external shutters and more.
iNELS Home Control (iHC) commands from the application through the RF smart box eLAN-RF-003 connected to your Wi-Fi router to the RF Control, which directly controls the devices and appliances. Communication is bidirectional, that is, it is possible to display the status of individual devices in the application, such as current weather station data or video camera images, from anywhere via the Internet.
What makes the eLAN smart box unique in the market is the control from the phone, TV, tablet and Samsung Gear S3 on one device, without the limitations of the users.
The application's control environment is intuitive, thanks to the ability to insert a background image of a flat or house plan and place the icons of each device in the area displayed. This gives the user an optical overview of the controlled devices. A great option for iHC is the customization of so-called scenes, a series of pre-defined instructions to devices for different situations.
For example, the frequently used ALL-OFF scene turns off unnecessary appliances, reduces the heating, pulls down the blinds, extinguishes lights all over the house, it simply performs the various tasks according to your specifications. This is an ideal feature before you go away for the weekend. Of course, all the settings can be made through the Smart TV application, the phone or the tablet.
The iHC app for Tizen OS can be downloaded from Samsung Apps in the Lifestyle category. The application is also in PROMO version, where you can test and control appliances and devices online.
For more information, such as which devices can be controlled with this app, please visit www.elkoep.cz/smarttv.
For examples of how to use and install wireless devices and appliances, visit iNELS RF Control.
Date of publication: 10. 04. 2019
Information about the company
ELKO EP is one of the world's leading manufacturers of electronic equipment for residential, office and industrial automation. We have been supplying the world over for the past 27 years; our main domain is primarily relays, but we also supply wireless products and IoT products. But we're not just focused on products; we also propose comprehensive and highly effective solutions.
Our branches are located in 13 countries around the world, but all developments and production takes place in our own premises in Holešov. Thanks to this background, we have received several important awards, such as the Visionary of the Year 2015 or the Global Exporter in 2016.
Calendar
Customer Centre
Technical support
| | |
| --- | --- |
| | +420 573 514 242 |
| | support@elkoep.com |
Complaints technician
| | |
| --- | --- |
| | +420 770 177 028 |
| | balla@elkoep.com |