iNELS introduces the new eLAN-RS485 / 232 signal converter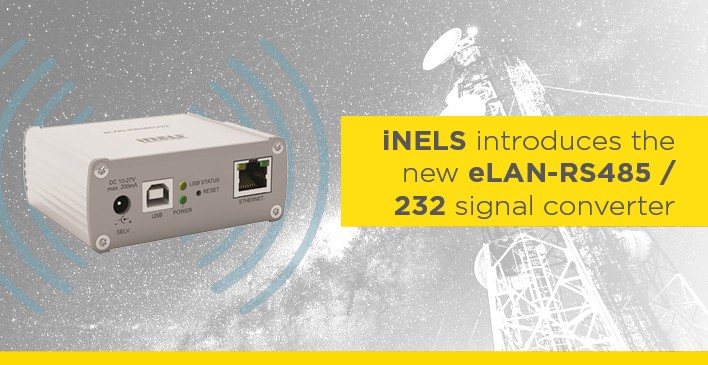 Quality heating systems and security systems are nowadays common standards nowadays. The catch happens when you want to connect it to your smart home. The solution comes with iNELS with its RS485 / 232 signal converter and iNELS Home Control application.
CONVERTER eLAN-RS485/232
eLAN-485/232 - the signal converter RS485 / 232 to TCP / IP for communication with devices via Modbus RTU, while the converter acts as a master unit. It is also equipped with a web interface that is used for configuration, and also to control connected devices.
With the web interface, the eLAN-RS485 can be used as a stand-alone device that can be controlled via a smartphone, tablet, or smart TV web browser.
eLAN-RS485 is also integrated into the Connection Server, which makes it possible to control connected technologies via iNELS Home Control (iHC). In this way, NILAN ventilation and recovery systems or Paradox and Jablotron security systems can be controlled.
The eLAN-RS485 / 232 is powered either by a 10-27 V DC adapter (included with the adapter) or via a 24V DC PoE, e.g. directly from a switch or PoE injector.
iNELS Home Control (iHC)
iNELS Home Control (iHC) is an application for controlling the iNELS system and the technologies integrated in it. The main advantage is that all technologies are controlled from a single application, whether via a home network connection (LAN) or mobile data anywhere outside of the home.
To control the electrical elements (units connected to the central CU unit), iHC works directly and the configuration is based on the generated file. To connect the iNELS bus system with other technologies in the house, a Connection Server is required to serve as a third-party IP protocol compiler.
After the iNELS Home Control (iHC) has been installed, the user has the whole house - directly on the smartphone, tablet or panel display (for example, iNELS Touch Panel 10 "). The application is associated with the RF Smart Box, which further communicates with elements of the iNELS RF Control. Sends and receives commands from up to 40 devices and processes the set programs for automatic control.
iHC is application is free to download at Appstore (iOS) and Google Play (Android).
Date of publication: 02. 11. 2018
Calendar
Customer Centre
Technical support
| | |
| --- | --- |
| | +420 800 100 671 |
| | support@elkoep.com |
SALES
| | |
| --- | --- |
| | +420 573 514 221 |
| | sales@elkoep.com |