The Bulgarian market is not uniform, but quite dynamic and diverse
Additional information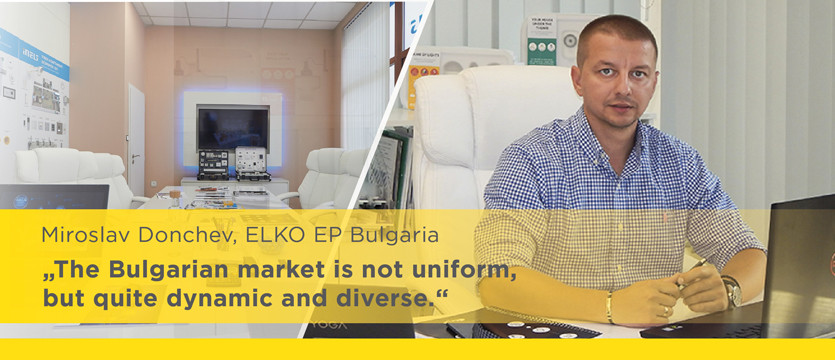 "We have not yet fulfilled what we can do," says Miroslav Donchev, who represents ELKO EP in Bulgaria. "And it's true for our team, which is constantly growing and improving. So for a country that has been slightly just among the technological leadership in the past years. But that has been changing lately and Bulgarians love technology, "add the man, who built a solid growing branch in a year and a half. As for numbers, references and know-how.
You started to represent Elko EP in Bulgaria in the beginning of 2019. What challenges did you face with the Bulgarian market? What have you managed to achieve so far?
Building automation and systems is a new technology for Bulgaria and the Bulgarian households.This was our first challenge - to present a new intelligent technology for process management at home and then to adapt our pricing offers. We were faced with the task of offering new expensive technology with affordable price to our customers. Elko EP is a company specialized in the production of relays and components for building automation which is the reason why they are one of the leaders in this field in Europe but they are not so well known in Bulgaria.
For the second year on the Bulgarian market we are enjoying over 10 new customers whose systems are under development.Each client have different requirments and each project is unique solution.We built a new larger showroom with an office, a commercial part and a training room, which is located in city of Gabrovo on the street Petko Karavelov 5. We have launched a free program for training and certification of distributors. We already have 8 distributor partners who have successfully completed the program and we are anticipating for the next specialists to be introduced to the technologies of Elko EP and iNELS.
Tell us about your completed projects
Most of our projects are single family houses in which we install heating control, lighting control, sun protection control and security systems. This is the moment to say more about our security systems, which include both classic and well-known monitoring system as well the less common flood prevention systems and also electric fire alarm signal systems. Our systems for monitoring the consumption of electricity, gas and water are also gaining popularity.
Our other clients are the hotels where the BMS and the access control systems (RFID) find place.These systems are applicable both for completely new buildings through GRMS system and for already existing ones through the HRESK system.We also have solutions for out industrial customers. We completed an interesting project with the company DIXI-Gabrovo, a manufacturer of paints and varnishes, where we successfully implemented a lighting control system.Now we are working on the next project where we will implement SMART biodynamic lighting.
What is the most sought on the Bulgarian market?
The Bulgarian market is not uniform, it is quite dynamic and diverse, so it is difficult to tell a favourite in demand. The Bulgarian strives to optimize his costs and make his home energy efficient and comfortable by implementing heating and lighting control systems. That is why security is often underestimated. Our flood and fire prevention systems are one of the products that need special attention. Our wireless RF system is one of the most searched product due to the higher protection compared to similar Wi-Fi systems (plug and play).
Is there something new that we can expect from your company? Are you planning the introduction of new products / solutions for the Bulgarian market?
We are planning a lot of surprises.We are young company which is still developing its potential. Now we are looking to improve our training system, as we strive to build a network of well-trained distributors in the country. Elko EP is also a specialist in the production of time and monitoring relays, these are some of the new products that we will present. The relays are of high quality and come with a 5 year warranty.You will find more information in our websites(www.smarthomebulgaria.bg and www.inels.bg), where we have shown samples and completed solutions, but to get your individual project, contact us personally.
Date of publication: 23. 09. 2020
Calendar
Customer Centre
Technical support
| | |
| --- | --- |
| | +420 800 100 671 |
| | support@elkoep.com |
SALES
| | |
| --- | --- |
| | +420 573 514 221 |
| | sales@elkoep.com |