Let's all go to ISE!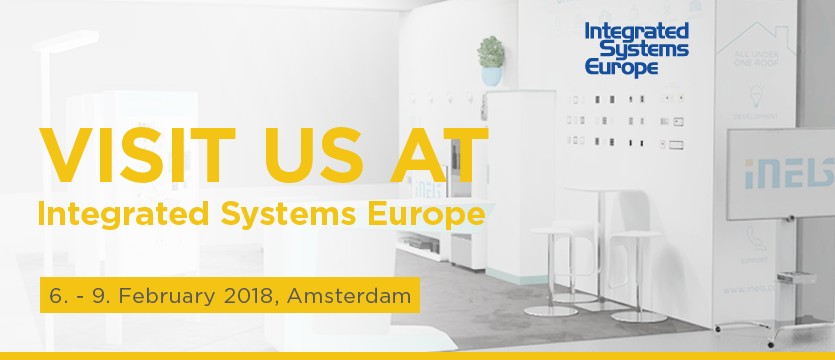 We cordially invite you to one of the largest technology exhibitions of the year, Integrated Systems Europe 2018.
The exhibition traditionally takes place at the beginning of February, specifically from the 6th to 9th of February, at the RAI Amsterdam Convention Centre. It focuses on system integration of smart solutions, smart home and building technologies and much more.
ELKO EP goes to the Netherlands and we take many innovations from our product line. There will be snapshots for wireless and bus wiring, the Internet of Things, Light Control and even hotel buildings of all types and sizes. So, simply look forward to it! And we are looking forward to seeing you all in Amsterdam.
Date of publication: 05. 01. 2018
Information about the company
Millions of Relays, Thousands of satisfied Customers, Hundreds of local staff, Twenty Five Years of Research, Development and Production, Fifteen Foreign Branches , but just ONE Company , ELKO EP, an innovative Czech company, where R&D, Production, Logistics, Service and Support all take place in our expanding Headquarters in Holešov. We are mainly focused our very own systems designed for Hospitality, Health Care, Smart Cities and the Internet of Things (IoT).
ELKO EP employs nearly 240 people, exports to over 70 countries around the world and has 15 foreign branches. Czech company of the year 2012, Top 100 Czech Companies, Visionary of the Year 2015 and Global Exporter in 2016 are just a few of the awards received and we are not finished, We continually strive for innovation and development because we care.
Calendar
1

2

3

MosBuild 2018 (Školení a výstavy)

4

5

6

7

8

9

10

Training for export partners (Školení a výstavy)

11

Coneco Racioenergia 2018 (Školení a výstavy)
Construma 2018 (Školení a výstavy)

12

13

14

15

16

17

Wired electroinstallation (RF) - webinar (Školení a výstavy)

18

Wired electroinstallation (BUS) - webinar (Školení a výstavy)

19

Wired electroinstallation (BUS) - webinar (Školení a výstavy)

20

21

22

23

24

Wireless electroinstallation (RF) - training (Školení a výstavy)

25

Timers/Relays - webinar (Školení a výstavy)

26

27

28

29

30
Customer Centre
Infoline
| | |
| --- | --- |
| | +420 573 514 221 |
| | elko@elkoep.com |
Technical support
| | |
| --- | --- |
| | +420 778 427 366 |
| | support@elkoep.com |