Jiří Konečný awarded The Smart City Personality of the year 2017
Additional information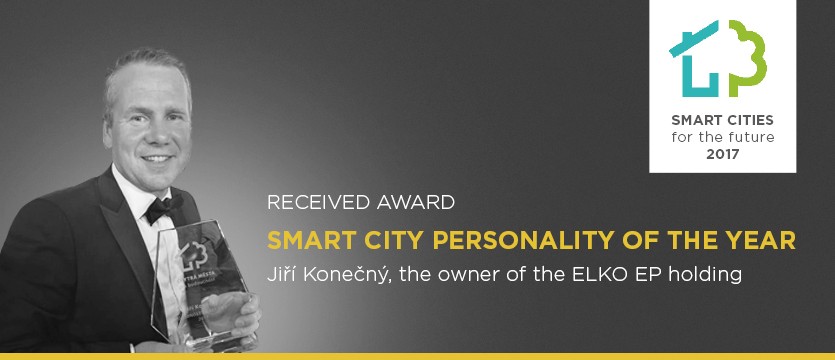 The owner of the ELKO EP holding company Jiří Konečný together with the president of the Association of Towns and Municipalities František Lukl became Smart City Personalities of the year 2017. This is the first year of the competition for future smart cities selected by the Smart City Innovation Institute. The Model Smart City title was awarded to Prague 3.
All the prize awards were made by the Minister for Regional Development Karla Šlechtová, during the CZECH TOP 100 festive gala dinner. Many of the most important companies and personalities of the Czech Republic where present at the event which took place on 21 June 2017 in the historic setting of Prague Castle.
"This award is recognition of our long-standing commitment to building smart technology not only for home and building control, but also now for cities. I am convinced that in the coming years the revolution will be waiting for us .We do not know now how these technologies will make life easier for us in smart cities in the future.'' Jiří Konečný commented on his success.
Smart cities for the future are under the auspices of the Ministry of Industry and Trade and the Ministry for Regional Development. The Ministry appreciates the personalities and projects that contribute to the development and implementation of smart city technologies. In particular, it assesses the feasibility and sustainability of the proposed solutions. The aim of the competition is to promote innovative approaches for improving the quality of life in towns and cities, especially from the point of view of efficient administration, energy along with cost savings and population safety. For more information, visit the official website. More photos are available here.
Date of publication: 22. 06. 2017
Calendar
Customer Centre
Technical support
| | |
| --- | --- |
| | +420 800 100 671 |
| | support@elkoep.com |
SALES
| | |
| --- | --- |
| | +420 573 514 221 |
| | sales@elkoep.com |