Niagara Framework - comprehensive providing of control
Additional information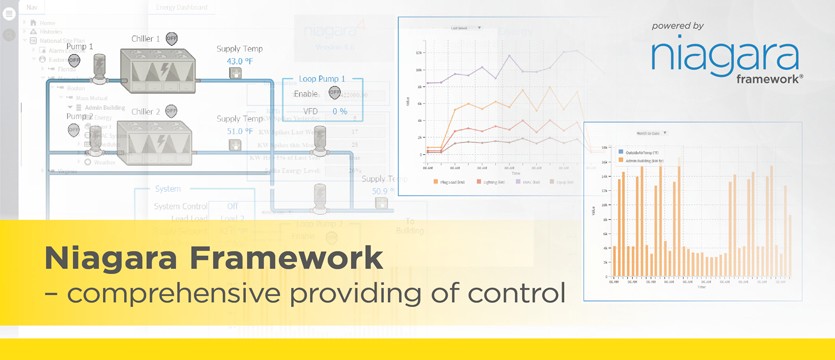 It is a designation for software and hardware solutions developed by Tridium providing comprehensive control and supervision of home, commercial or industrial automation.
The main advantages are:
Programmable web interface / dashboards and JavaScript or HTML5 control logic for both desktop and phone. The user can also program by drag and drop.
Connectivity to various interfaces and repositories, e.g. XML, OPC, ActiveX, MySQL, oBix.
Ability to add custom software drivers written in Java for additional communication protocols.
Integration of alarms and notifications - alerting the user to defined events with a link to history and communication means (telephone or e-mail server).
Cooperation with Oracle hotel systems - API connectivity.
Surveillance can be extended with IP cameras or entire DVRs.
Support for diverse systems, including voice assistants.
All software is OS independent - works reliably on both Microsoft Windows and Linux distributions.
The system uses the existing Ethernet infrastructure to communicate over TCP / IP protocol and in case a different communication method is required; the serial link (RS232 / RS485) is also used. All commands and feedback are processed by the main node in the infrastructure - a server (JACE 8000 physical controller or Microsoft Windows / Linux workstation) with Qnx operating system installed. This node communicates with terminal devices through the ASCII (iNELS BUS) driver. The entire solution architecture is built on a virtual Java machine whose operating system is written to run either on Tridium hardware - JACE 8000: http:// bit.ly/Niagara_JACE8000 - or on any workstation if Workbench software is installed carrying all important system components. The whole licensing model is based on the number of data points charged regardless of the communication protocol used. Integrators use the tool called Workbench to create and edit projects, which allows you to create both network diagrams and graphical interfaces for the web or user dashboards. The software can handle drag and drop commands, but also serves as an interpreter for JavaScript or HTML5. Only certified partners have access to all documentation related to software drivers and interface descriptions. However, a list of available drivers can be found HERE.
iNELS and Niagara Framework
Various iNELS controllers can be connected to the Niagara Framework through the presence of software drivers. TCP / IP allows all requests to be transmitted over ASCII (CU3-0xM) or indirectly via the JSON API (eLAN-RF-003). The framework also includes the presence of an MQTT driver to establish communication with devices from iNELS Air. Our company is an exclusive distributor of Tridium hardware and software, including basic technical support for the combination of iNELS and Niagara Framework.
Date of publication: 11. 12. 2019
Calendar
Customer Centre
Technical support
| | |
| --- | --- |
| | +420 800 100 671 |
| | support@elkoep.com |
SALES
| | |
| --- | --- |
| | +420 573 514 221 |
| | sales@elkoep.com |