Outstanding success of ELKO EP in Kuwait
Additional information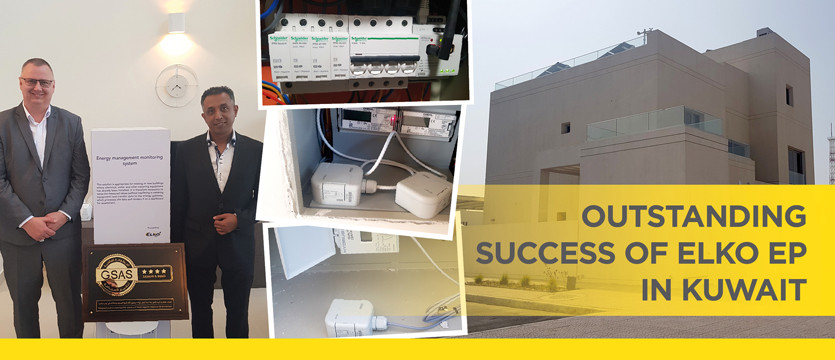 Kuwait City – U The fact that Kuwait Minister of Labour and Housing Rana Abdullah Abdul Rahman Al-Faris had arrived at the inauguration of a model villa - the House of 2035 - was a sign that it was not a normal project. The villa is equipped with renewable energy sources, its own photovoltaic power plant, grey water recovery plant and elements of intelligent electrical installation focused on energy efficiency. For the residential villa these were supplied by the Czech company ELKO EP.
ELKO EP participated in the preparation of sophisticated energy management, where the RFPM-2 gateway reads, processes and displays data from electricity meters (electricity networks or solar panels) and water meters (water mains, sewage treatment plants). The data is then made available to the homeowner, but also to the operator of the entire infrastructure for efficient resource management at national level.
House 2035 became the first ever house in Kuwait to receive the highest GSAS (Global Sustainability Assurance System) certification, which recognizes buildings with an exceptional ability to reduce the energy consumption of buildings. At the same time, Petr Drastich, director of the ELKO EP Saudi branch, received an award for a visionary approach that determines the future direction of housing in Kuwait from the hands of Anas Mirz, CEO of the National Technology Society.
"The model house on which we have worked intensively in recent years has proven that savings can go hand in hand with user comfort while dramatically reducing the overall environmental footprint. By getting the strict GSAS certification, he opened the door for further cooperation. As a result, we will be there when other state-of-the-art projects in the area of efficient housing and their interconnection with intelligent technologies are being established, "says Jiří Konečný, owner of ELKO EP, which has won a number of awards with his smart wiring Global Exporter of the Year. Today, the Holešov Company has 12 branches around the world and one of the most successful is the one in the Middle East.
The ELKO EP energy management system has increased the GSAS rating of this project and may qualify for a higher rating for any future projects.
More about the project can be found at http://kwhouse2035.com/, for international GSAS certification https://www.gord.qa/gsas-trust.
Date of publication: 04. 03. 2020
Calendar
Customer Centre
Technical support
| | |
| --- | --- |
| | +420 800 100 671 |
| | support@elkoep.com |
SALES
| | |
| --- | --- |
| | +420 573 514 221 |
| | sales@elkoep.com |