We communicate with Promotic
Additional information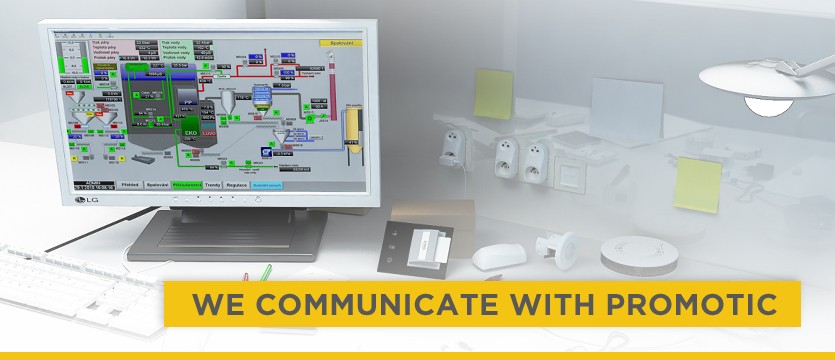 Our iNELS systems communicate with Promotic Scada vizualization software. It is software that serves to visualize and manage technological processes in a wide range of industries.
Increasingly, this type of software is also used to manage and control technologies in "smart" buildings and buildings. Exactly these smart electroinstallations are developed and manufactured by iNELS since 2007. So we are constantly working hard for better results.
The PROMOTIC SCADA system is designed to be as accessible as possible to all new users. The PROMOTIC SCADA system has a very wide range of communication options. Built-in communications drivers, standardized interfaces, database access and web server - all offer users almost unlimited possibilities to integrate PROMOTIC into their technologies and projects.
The iNELS BUS central unit passes information through the ASCII protocol - Promotic uses the software driver "PmCHAR" (assembly with data and image) that is part of the installation. You can not only monitor the states, temperatures, etc. from the iNELS BUS system, but also change the values and control the system. It is also possible to communicate with third parties, monitor and set up more complex projects, such as boiler rooms.
The RF Control eLAN-RF (Wi) -003 Gateway transmits information via the API interface - communicating through a smart box with the "HttpRequest" driver (a set of data and images) that is part of the installation. You can both read the states of the RF components and control these components.
You can find more informations directly on the Promotic web site.
Date of publication: 07. 12. 2017
Calendar
Customer Centre
Technical support
| | |
| --- | --- |
| | +420 800 100 671 |
| | support@elkoep.com |
SALES
| | |
| --- | --- |
| | +420 573 514 221 |
| | sales@elkoep.com |