Quality is what connects our past and our path to the future
Additional information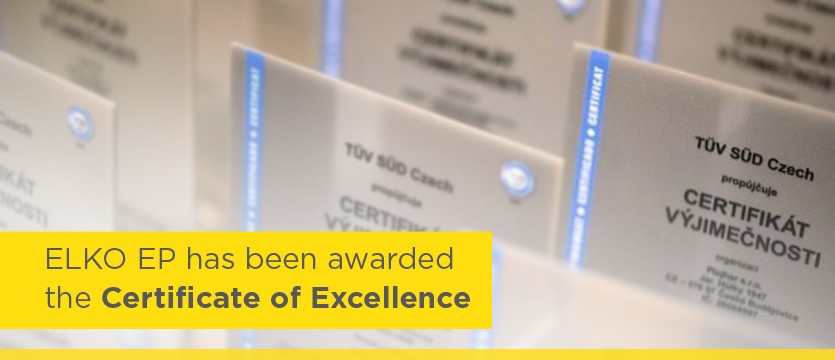 On Thursday, November 8, 2018, TÜV SÜD Czech, the leading company in the field of inspection, certification, testing and education in the Czech Republic, has officially introduced the companies that have long been striving to improve their services, processes or products, and has handed out to them Certificates of Excellence. These awards were awarded following the - Month of Quality campaign in November in the Czech Republic. Among the winners was ELKO EP.
TÜV SÜD Czech has awarded TÜV SÜD Czech Certificate of Excellence to Czech companies across all areas of industry and services for the twelfth year. A prerequisite for obtaining it is the successful completion of multiple scans of services, processes, or products. The awarding company must therefore be in possession of multiple certification documents that guarantee that it strives to continually improve its production or access to customers, employees, or the environment.
In 2018, the Certificate of Exceptionality was awarded to a total of 15 companies. Apart from ELKO EP, s.r.o. are other holders,include for example Avex Steel Products s.r.o., Bilfinger Euromont a.s., CEREA, ELIS PLZEŇ a. s., ELKO EP, s.r.o., Frauenthal Automotive Hustopeče s.r.o., G - Team a.s., HAMÉ, HANYŠ - jeřábnické práce, s.r.o., LESIKAR a.s., M D Let s.r.o., Plojhar s.r.o., SCHOTT CR, s.r.o., TON a.s. či ZK - TERMOCHEM s.r.o.

The Month of Quality program is a follow-up to the Europe-wide European Quality Week initiative. "I want to commend all the companies and their visionary and courageous managers who believe in quality and place them at the heart of their values, business and corporate cultures. I hope very much that more and more managers in the Czech Republic and in Europe understand that quality is our biggest competitive advantage in today's globalized world. Thanks to our tradition and our clever brains, we have a great deal to offer the world. But we need quality practices, quality vision and quality people who believe that we can be competitive globally because of their quality, "commented Oleg Sprzina - CEO of TÜV SÜD Czech and head of the Central European condo TÜV SÜD Czech-Slovak-Poland.
Date of publication: 12. 11. 2018
Calendar
Customer Centre
Technical support
| | |
| --- | --- |
| | +420 800 100 671 |
| | support@elkoep.com |
SALES
| | |
| --- | --- |
| | +420 573 514 221 |
| | sales@elkoep.com |