Multifunctional relay CRM-61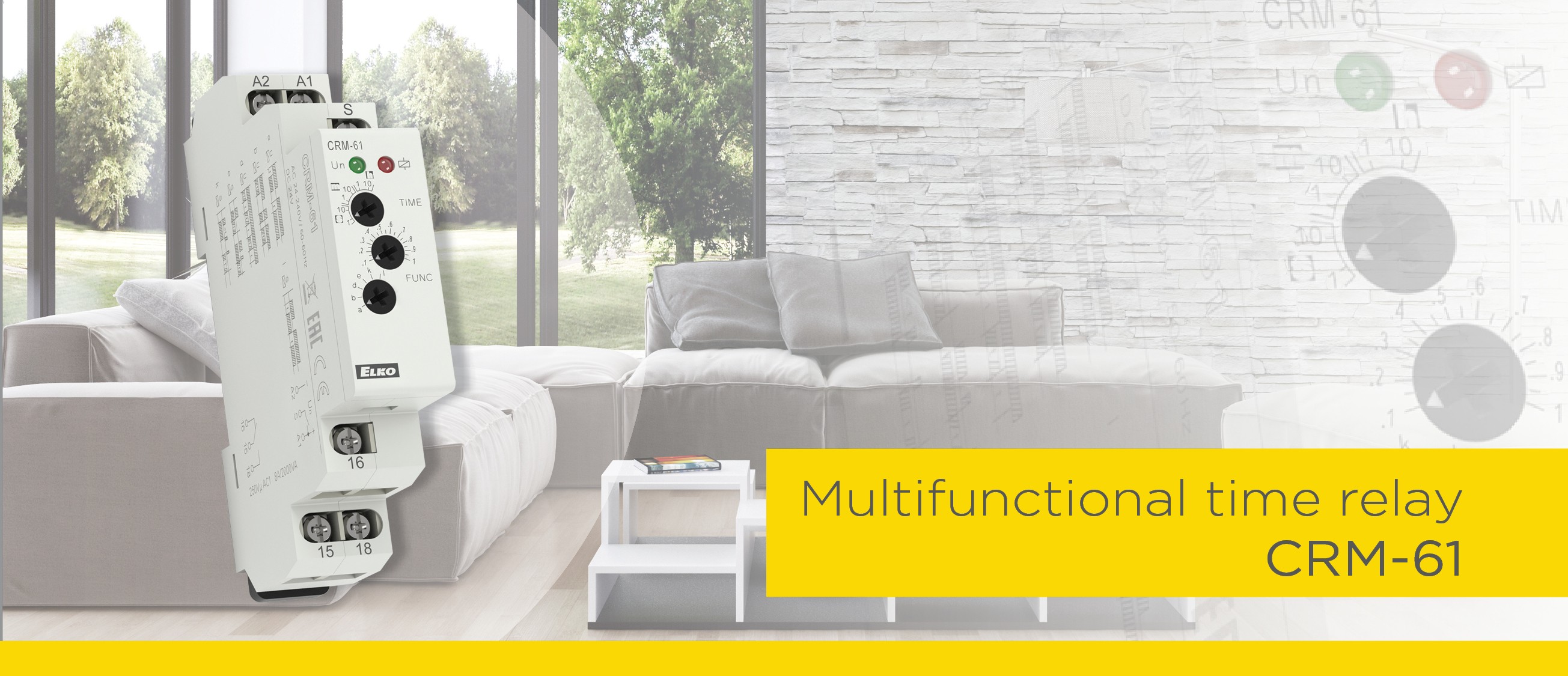 Multifunctional relay CRM-61 can be used for electrical appliances, heating, lightning control, controlling of engines, pumps and ventilators. Why choose CRM-61?
Up to 12% lower costs than other multifunctional relays
Contains basic functions of delayed start and return
Functions marked as most used by our customers were additionally integrated
​Additional functions:
Impulse relay with delay - Push of the button = lights on, another push = lights off. If one forgot to turn off the lights, relay will turn them off after selected period of time.
This function is useful especially for lightning control in cellars, halls, bathrooms. You can easily control other appliances, such as ventilators and engines too. CRM-61 brings savings of costs and energy. Appliance is only turned on when you need it, if you forgot to turn it off, it is going to turn off on its own nevertheless.
Delayed return after switching the input (buttons till turn off) - By pushing the button (impulse) the motor is turned on with a delay. Motor runs until turn off and repeated push of the button (impulse). Function can be used namely for switching motors, technologies, and ventilators in industrial environment.
Additionally multifunctional relay CRM-61 is equipped with switching contact, which can be set as switching on or switching off. This feature ensures further variability of use. For more information please visit product page.
Date of publication: 04. 07. 2018
Information about the company
ELKO EP is one of the world's leading manufacturers of electronic equipment for residential, office and industrial automation. We have been supplying the world over for the past 27 years; our main domain is primarily relays, but we also supply wireless products and IoT products. But we're not just focused on products; we also propose comprehensive and highly effective solutions.
Our branches are located in 13 countries around the world, but all developments and production takes place in our own premises in Holešov. Thanks to this background, we have received several important awards, such as the Visionary of the Year 2015 or the Global Exporter in 2016.
Calendar
Customer Centre
Technical support
| | |
| --- | --- |
| | +420 573 514 242 |
| | support@elkoep.com |
Complaints technician
| | |
| --- | --- |
| | +420 770 177 028 |
| | balla@elkoep.com |