RFSAI-62B Switch - extending your hand
Additional information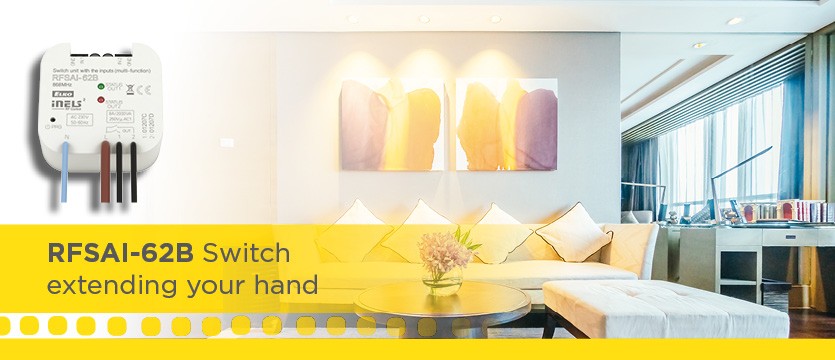 In every household or office, there are lots of things to control, but basic things such as lights have few remote controllers. The solution is so easy.
Introducing the RFSAI-62B switch with 2 independent channels, in a compact BOX design of only 49x49mm, which you simply mount into the installation box under the current switch.
With the switch it is so easy to transform with the remote control and achieve greater comfort. Then you can turn on and off the lights, but also other electrical appliances, on both the current switches and the new easy to use RF key fob, remote control RF Pilot or smartphone or tablet thanks to the RF smart box.
The iNELS RF wireless system developed by ELKO EP is, thanks to its modularity, ready to quietly meet any of your visions for smart control and control of your home or larger buildings. To control the lights, you can simply add remote-controlled heating, sockets, blinds, ceiling fans, cameras, virtually anything you want.
Characteristics of selected features of the RFSAI-62B
Switching component with 2 relay outputs are used to control appliances and lights. Internal terminals can connect two existing buttons in the wiring.
The BOX design lets you mount it right in an installation box, a ceiling or controlled appliance
It enables connection of the switched load up to 2x 8 A (2x 2 000 W).
Function: button, impulse relay and time function of delayed start or return with time setting range of 2s-60min. It is possible to assign any function to each output relay.
Each output can be controlled by up to 12/12 channels (1 channel represents 1 button on the
Memory status can be pre-set in the event of a power failure.
They can be combined with detectors, controllers, iNELS RF Control or system components.
For more information on the RFSAI-62B switch and the technical specifications, please refer to the product catalogue.
Date of publication: 22. 02. 2019
Calendar
Customer Centre
Technical support
| | |
| --- | --- |
| | +420 800 100 671 |
| | support@elkoep.com |
SALES
| | |
| --- | --- |
| | +420 573 514 221 |
| | sales@elkoep.com |