Silly time? Make it as comfortable as possible at home.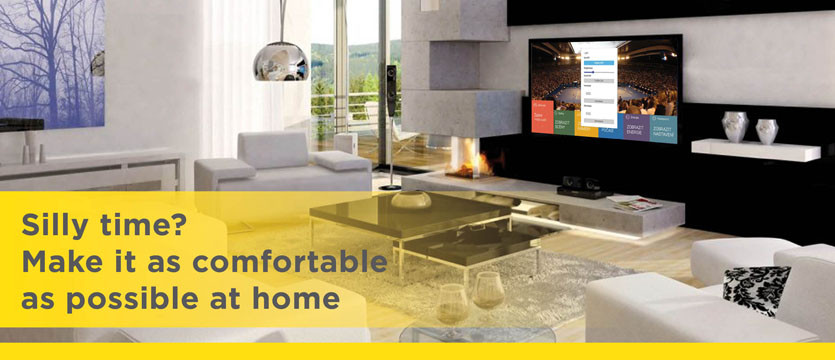 By no means do we want make light of the situation. The furious coronavirus pandemic has hit our lives hard. We cannot travel, do sports, meet, go out for a beer - in short do the quite ordinary things that make our lives more enjoyable. We have to spend almost all our time in home under quarantine. On the one hand, this is a great opportunity to strengthen family relationships. On the other hand it is maybe an opportunity to improve your living and make it more in your own image. Whether, it means more comfort, more savings or investment in design accessories or smart technologies.
''Since we have been involved with intelligent electro-installations and generally with smart home technologies, the trends have changed considerable. Previously, everything was more or less 'geeky' – for technology and gadget lovers. Those who enjoyed playing at home felt free to download dozens of apps and try to fool around with them. In recent years, everything is different. Smart technologies are ubiquitous, but practically the home user doesn't even notice them. They use the Internet of Things and the possibilities of artificial intelligence. Users no longer check any other devices, but appreciate the savings or convenience that these things somehow bring to them," says Jiří Konečný, a man who has won many awards in recent years. Whether it is Visionary of the Year, Entrepreneur of the Year or Global Exporter, he has already earned for the activities of his companies ELKO EP and iNELS - as well as a man who is used to spending a substantial part of the year traveling. He, too, is now at home, from where he manages practically all of the production of the companies in Holešov.
" The situation is unfortunate for all of us. We have offices in 16 countries; we export our technology to more than 80 countries on all continents. We have huge projects in the Middle East and all over Europe, so the obligation to be at home is uncomfortable. On the other hand, I try to devote energy to those I owe it to my wife, my son, my house. In one of the interviews, I said I was a test mouse at home - and this is doubly true at the moment. I keep trying new technologies and products, on myself and my loved ones, "adds Jiri Konecny.
The right time for innovation
According to Jiri Konecny, now is also the ideal time to become "it" - to obtain information and develop innovation. "If I look at it from the point of view of a user who is now bound to spend time between the four walls of the house - I would certainly use that time to look at the energy. How much does the house cost me and if I can save on something. I would look for data, appliance classes, and unnecessary expenses. Hand in hand with this I would resolve the comfort level. Can I really control the whole house with a TV remote? Am I really not interested in the LED backlight that goes hand in hand with the scenes of the movie? Do I have good audio speakers? Can my refrigerator do what the best on the market can do? At least that's what I am as a home user,"laughs Jiří Konečný and at the same time gives the view of the company owner with almost three hundred employees.
"If I cannot develop classic business activities 100% - that is, flying around the world and meeting people, I cannot exhibit, then my basic task is to think about innovation. At this point, for example, we are dealing with the whole concept of iNELS Air - our new company that focuses exclusively on the world of the Internet of Things. At the same time, we develop the IoT concept for smart cities and smart agriculture. We are also looking at traditional iNELS. Smart technologies for hotels, offices or homes. We would like to launch, for example, an improved application for Samsung television or news in the field of traditional relay devices. So we work harder than usual. And at the same time we all long for a return to normal," adds Jiří Konečný, who concludes by saying. " Please wear masks and follow the safety rules. For our loved ones, for ourselves, for the world that we need get back in shape as soon as possible!''
Date of publication: 01. 04. 2020
Information about the company
ELKO EP is one of the world's leading manufacturers of electronic equipment for residential, office and industrial automation. We have been supplying the world over for the past 27 years; our main domain is primarily relays, but we also supply wireless products and IoT products. But we're not just focused on products; we also propose comprehensive and highly effective solutions.
Our branches are located in 13 countries around the world, but all developments and production takes place in our own premises in Holešov. Thanks to this background, we have received several important awards, such as the Visionary of the Year 2015 or the Global Exporter in 2016.
Calendar
Customer Centre
Technical support
| | |
| --- | --- |
| | +420 573 514 242 |
| | support@elkoep.com |
Complaints technician
| | |
| --- | --- |
| | +420 770 177 028 |
| | balla@elkoep.com |