The council doesn't have to be about the stacks of paper
Additional information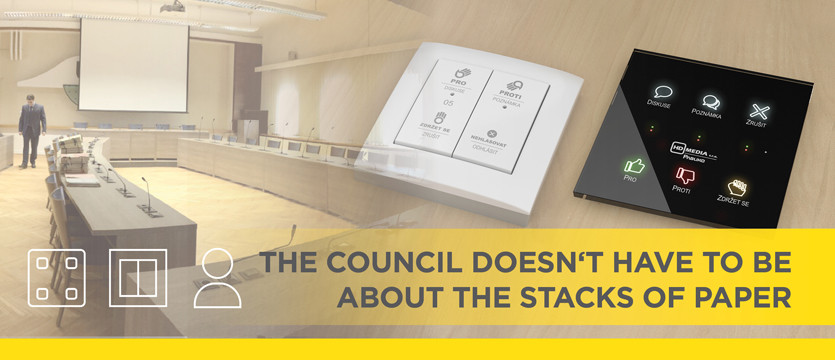 We already know that the world is gradually changing for the better thanks to new technologies. However, you will still find places that have not received much attention in terms of technology. City councils could talk. We ask: how do you imagine the actions of the council?
It probably wouldn't take you that long to answer this question. Long negotiations, politicking and stacks of papers on the tables. Add to that other people who have to write, print, set up, and so on, and every change for the better is welcome. In this call, ELKO EP joined forces with HD MEDIA, which came to the market with the Konsiliář program, which focuses on the preparation and electronic preparation of documents for councils and councils. This program has been developed since 2007 and ELKO EP is the inventor of two units - wireless and wired voting.
The wireless (RF) unit is ideal for meetings that take place externally. The units are simply transported from place to place and connected to the projection unit at the venue. The range of the unit is up to 100 m. The classic plastic design of the units is supplemented by the options For / Against, Abstain / Discussion, Note / Logout. Power is provided by batteries of the CR 2032 type with a lifespan of about 1 year, and a great advantage is the easy replacement, which can be done by any user.
The wire (BUS) unit is suitable for installation directly in the room. Its installation is standardly solved in tables together with other possible components such as microphones and sockets. The surface of the unit is made of quality tempered glass and the individual symbols are backlit for better orientation. The feedback of the unit is also supplemented by sound signalling and vibration. A chip card reader is also included, so no emphasis is placed on a specific meeting schedule.
At first glance, what seems like a perhaps unnecessarily oversized solution means, in practice, it is saving tens of hours on analog recording of the entire course of the meeting. That is why today Konsiliář and Pabliko already use dozens of Czech cities, including Brno, Liberec, Břeclav or Kroměříž.
Date of publication: 05. 05. 2020
Calendar
Customer Centre
Technical support
| | |
| --- | --- |
| | +420 800 100 671 |
| | support@elkoep.com |
SALES
| | |
| --- | --- |
| | +420 573 514 221 |
| | sales@elkoep.com |