The ELKO team excelled at the international gastro festival
Additional information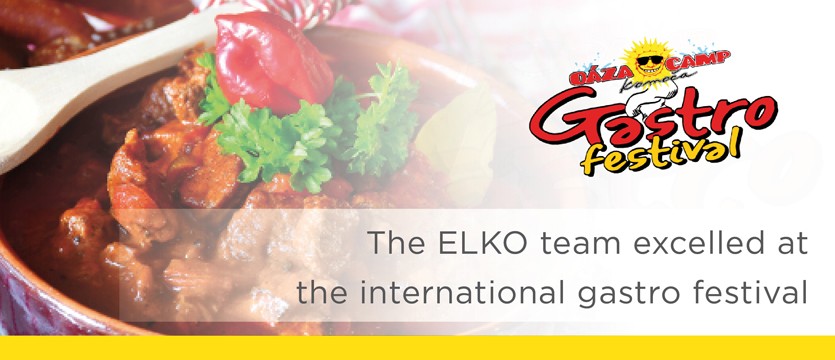 The Oasis Camp in Komoch has been hosting the largest gastro festival in Slovakia for almost 20 years, where fun and tasty meals form an impeccable pair. On Saturday, August 3, 2019, the ELKO EP Group team participated in the goulash cooking competition, and was well above expectations when it won first place in the Beef / Pork Goulash category!
The competition was attended by more than 200 professional and amateur teams, which were evaluated by an expert committee of gastronomic professionals (see photo gallery). It unanimously agreed and appreciated the balanced combination of spices that underpin the winning pork goulash of the ELKO Group. ELKO was represented by Jiří Konečný, Boris Kamenický (both ELKO EP Czech Republic), Jozef Barta (ELKO EP Slovakia), Alex Elgart (ELKO EP Russia and Ukraine), Oliver Kiss (ELKO EP Hungary).
The interplay of all team members eventually led to the surprising but definitely deserved profit of the Golden Spoon.
Although many teams presented their culinary creations perfectly styled and beautifully decorated, the jury primarily evaluated the resulting taste. In this aspect the goulash of the ELKO team had no competition! Numerous recipe requests could not be answered because, as the team members agreed - they all cooked and flavoured according to their emotions, and this is often more than precise recipe conditions. The three-day festival of good food was also spiced up by a number of singers and bands, such as the Slovak star Desmod.
In the photo gallery we bring snapshots from the gastro festival. Among them is a lamp post literally covered with technology. We believe that the organizers saw a lot in our Smart Column, which they acknowledged, looked much better and brought far more smart technologies in one well design device. For example, we will see it there in a year to defend our goulash title...
We are already looking forward to the next year for which the ELKO team is preparing another goulash surprise. ;o)
Date of publication: 08. 08. 2019
Calendar
Customer Centre
Technical support
| | |
| --- | --- |
| | +420 800 100 671 |
| | support@elkoep.com |
SALES
| | |
| --- | --- |
| | +420 573 514 221 |
| | sales@elkoep.com |