The Polish Energetab Fair exceeded expectations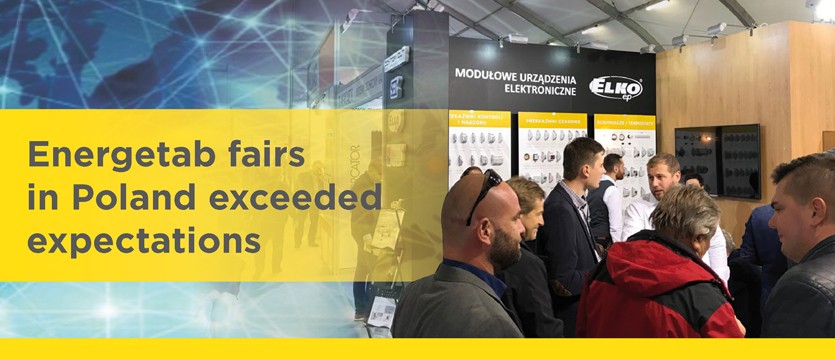 In mid-September, ELKO EP participated for the fifteenth time in the largest electrical and energy trade fair in Poland, ENERGETAB. In particular, we introduced the entire range of relays, but also our comprehensive Hotel Management System and iNELS Air range developed primarily for the IoT area. This year's ENERGETAB was the most successful year for ELKO EP, as evidenced by the number of concluded or pre-negotiated contracts.
The 32nd International ENERGETAB Fair attracted over 50,000 visitors to the city of Bielsko-Biała, mainly from the professional community, and 700 exhibitors from 24 countries in Europe, America and Asia.
Energetab bears the spirit of trade shows, as we know them from 10-15 years ago. It is therefore a very strong trade fair full of real experts, to whom we have something to offer," emphasized the importance of our presentation Jan Kapitanov, director of the Polish branch of ELKO EP.
The Holesov Company ELKO EP introduced itself mainly with the whole assortment of relays, of which we offer more than 200 types, and also with the hotel system Guest Room Management System (GRMS), which offers a comprehensive solution for both existing and newly built hotels. The iNELS Air product line for IoT (Internet of Things), which includes sensors for communication on the Sigfox, LoRa and NB-IoT protocols also attracted great interest.
"We confirmed cooperation with our long-term partners in Poland and outlined the possibilities of delivering to new major players not only on the Polish electrical market. We concluded several lucrative contracts and negotiated some really interesting contracts, "added Jan Kapitanov with pleasure that our Polish branch provides not only direct sales of products to customers, but also proposes a comprehensive solution for intelligent electrical installations under its own brand iNELS.
The Polish market for electronic devices is booming, especially in the field of industrial installations, so-called smart houses and much attention is paid to the so-called Smart City (smart cities and municipalities).
More information about ELKO EP Poland, assortment overview and contacts can be found at www.elkoep.pl

Date of publication: 30. 09. 2019
Information about the company
ELKO EP is one of the world's leading manufacturers of electronic equipment for residential, office and industrial automation. We have been supplying the world over for the past 27 years; our main domain is primarily relays, but we also supply wireless products and IoT products. But we're not just focused on products; we also propose comprehensive and highly effective solutions.
Our branches are located in 13 countries around the world, but all developments and production takes place in our own premises in Holešov. Thanks to this background, we have received several important awards, such as the Visionary of the Year 2015 or the Global Exporter in 2016.
Calendar
Customer Centre
Technical support
| | |
| --- | --- |
| | +420 573 514 242 |
| | support@elkoep.com |
Complaints technician
| | |
| --- | --- |
| | +420 770 177 028 |
| | balla@elkoep.com |