The weeks not just for architecture and building
Additional information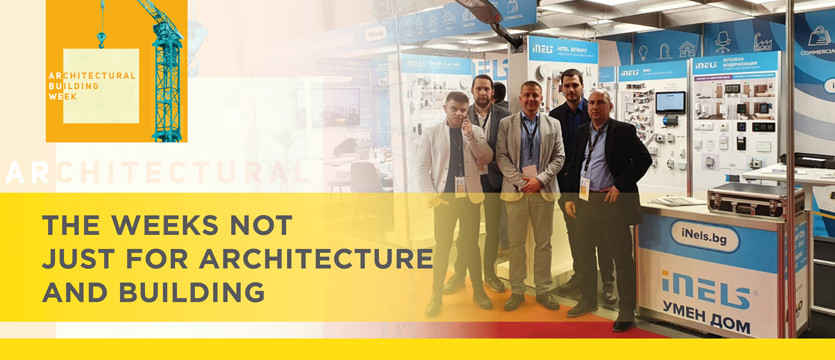 From 25th to 28th February, the Architectural Building Week took place in the Bulgarian capital Sofia, focusing mainly on equipment, machines, products and technologies used in construction.
During the four days, the fair filled three halls of the Inter Expo Center and was attended by more than 7,000 professionals who came to get new technology information, get in touch with suppliers or to get inspired by new ideas and experiences. Together with this event, the WATER TECH EXPO and SECURITY EXPO Forum focused on water management, energy and safety.
Our colleagues from the Bulgarian branch were present throughout the exhibition. Visitors to our booth were enchanted by the ease of use of the comprehensive iNELS smart system. The demonstration panels displayed the individual uses of the system. Real estate owners certainly stopped by for a wireless solution for existing buildings that can be purchased and installed without any chiselling into the walls. Those who are just planning to build a house or are planning a complete refurbishment appreciated the bus solution that offers a wide range of automation and convenience features.
Hoteliers were highly attracted by either the Hotel Retrofit (HRESK) solution, which offers a hotel room solution based on wireless technology and is designed to work in existing hotels, or the Hospitality Hotel (GRMS), a room management system based on a bus solution . It is designed mainly for hotels and offers comfortable and easy control of hotel rooms, reception and restaurant. Last but not least, we presented the Building Management System (BMS), which is a comprehensive solution for monitoring and control of even the most complex building systems.
We are very pleased with the interest that our stand aroused and we are also looking forward to working with our newly acquired candidates.
Date of publication: 02. 03. 2020
Calendar
Customer Centre
Technical support
| | |
| --- | --- |
| | +420 800 100 671 |
| | support@elkoep.com |
SALES
| | |
| --- | --- |
| | +420 573 514 221 |
| | sales@elkoep.com |