The best solution for your LED light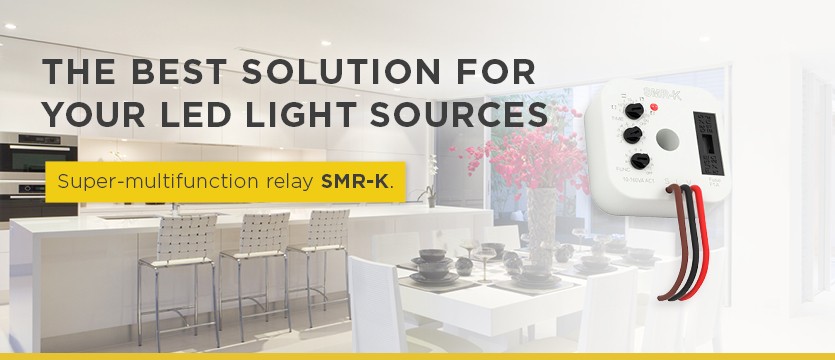 Are you already tired of your old switch and do you want to upgrade to a new level? Re-wiring the entire existing wiring your home is not an option? Use the SMR-K multi-function relay. It is designed for mounting into installation box, under the pushbutton or switch directly into existing wiring.
The main advantage of the SMR-K relay is the possibility to connect an LED light source. With a combination of a regular timer and a LED light source, it's a good thing that even a low micro amp current can be distributed to the LED light source. This can lead to flashing or to light being emitted even when switched off. However, the SMR-K time relay can handle this. Thanks to the low control current of the product, only 25 micro amps will no longer make the light source flash.
The relay also offers a wide range of other benefits – mounting the KU 68 into installation boxes instead of the cabinet, adjustable off-delay function – you will appreciate, for example, the fan on the toilet, which will remain on when the bulb is switched off, the button lock and others.
SMRK is designed for switching R and L loads, i.e. for conventional bulbs, transformer-wound light sources, electric motors and the like.
You can find out more about the product on our website.
Date of publication: 19. 09. 2017
Information about the company
Millions of Relays, Thousands of satisfied Customers, Hundreds of local staff, Twenty Five Years of Research, Development and Production, Fifteen Foreign Branches , but just ONE Company , ELKO EP, an innovative Czech company, where R&D, Production, Logistics, Service and Support all take place in our expanding Headquarters in Holešov. We are mainly focused our very own systems designed for Hospitality, Health Care, Smart Cities and the Internet of Things (IoT).
ELKO EP employs nearly 240 people, exports to over 70 countries around the world and has 15 foreign branches. Czech company of the year 2012, Top 100 Czech Companies, Visionary of the Year 2015 and Global Exporter in 2016 are just a few of the awards received and we are not finished, We continually strive for innovation and development because we care.
Calendar
Customer Centre
Infoline
| | |
| --- | --- |
| | +420 573 514 221 |
| | elko@elkoep.com |
Technical support
| | |
| --- | --- |
| | +420 778 427 366 |
| | support@elkoep.com |