The best solution for your LED light
Additional information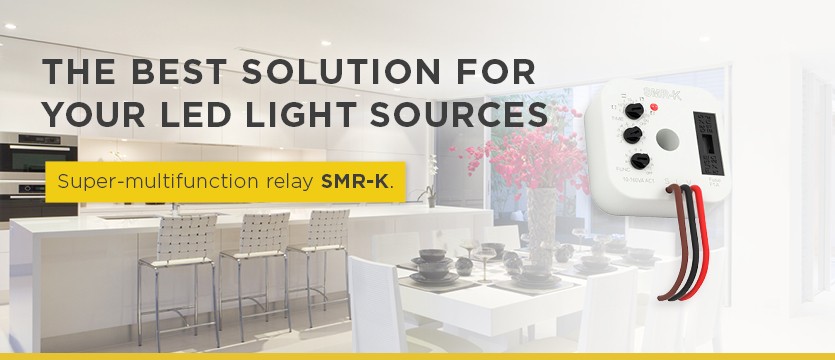 Are you already tired of your old switch and do you want to upgrade to a new level? Re-wiring the entire existing wiring your home is not an option? Use the SMR-K multi-function relay. It is designed for mounting into installation box, under the pushbutton or switch directly into existing wiring.
The main advantage of the SMR-K relay is the possibility to connect an LED light source. With a combination of a regular timer and a LED light source, it's a good thing that even a low micro amp current can be distributed to the LED light source. This can lead to flashing or to light being emitted even when switched off. However, the SMR-K time relay can handle this. Thanks to the low control current of the product, only 25 micro amps will no longer make the light source flash.
The relay also offers a wide range of other benefits – mounting the KU 68 into installation boxes instead of the cabinet, adjustable off-delay function – you will appreciate, for example, the fan on the toilet, which will remain on when the bulb is switched off, the button lock and others.
SMRK is designed for switching R and L loads, i.e. for conventional bulbs, transformer-wound light sources, electric motors and the like.
You can find out more about the product on our website.
Date of publication: 19. 09. 2018
Calendar
Customer Centre
Technical support
| | |
| --- | --- |
| | +420 800 100 671 |
| | support@elkoep.com |
SALES
| | |
| --- | --- |
| | +420 573 514 221 |
| | sales@elkoep.com |