Hot news from the Indian branch office.
Additional information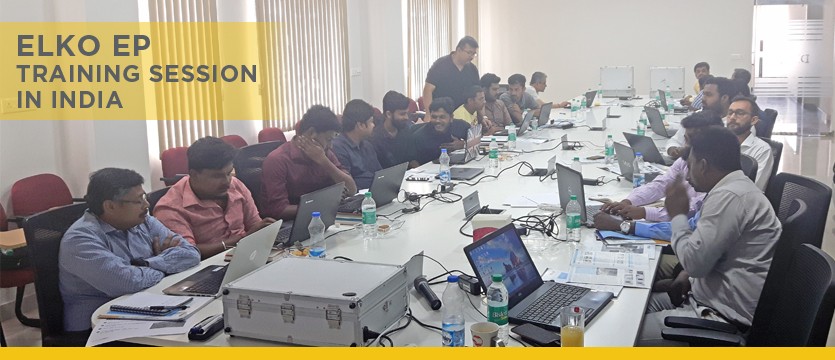 ELKO EP currently operates 16 branch offices all over the world. One of the most exotic and also the youngest one is situated in India.
ELKO EP India Pvt. Ltd. was established on 1st of November 2017 with headquarters in Ahmedabad and branch offices in Faribadad and Bangalore. After the prelaunch function in September and a successful first performance at India's largest exhibition Elecrama 2018, ELKO EP India currently cooperates with more than 15 system integration companies. As knowledge means power, the India branch office has organised two rounds of training sessions for our partners.
The first of them took place from 30th of April to 2nd of May in Bangalore. Many system partners from Bangalore, Chennai, Hyderabad and Coimbatore participated in this event. The well planned training contained theory, illustrative demonstrations and practical skills. Detailed insight was given by our technical guru Petr Kulhanek from the Czech Republic, mainly about the products, programming software and real life examples. We consider it as really successful training with many positive comments from our partners.
The second and much more advanced training was held in Ahmedabad. Many of our partners have already worked on the iDM3 software platform and hopefully all their doubts were answered during this session. Generally it was a very pleasant training session; at the end we got some excellent remarks and positive feedback.
All the partners involved have finally received a certificate and made us very happy, as whole event passed off very well and smoothly. We would like to say thanks to all those who participated and we are already looking forward to another training meeting.
Date of publication: 11. 05. 2018
Calendar
Customer Centre
Technical support
| | |
| --- | --- |
| | +420 800 100 671 |
| | support@elkoep.com |
SALES
| | |
| --- | --- |
| | +420 573 514 221 |
| | sales@elkoep.com |