Universal Soldier in the field of IoT
Additional information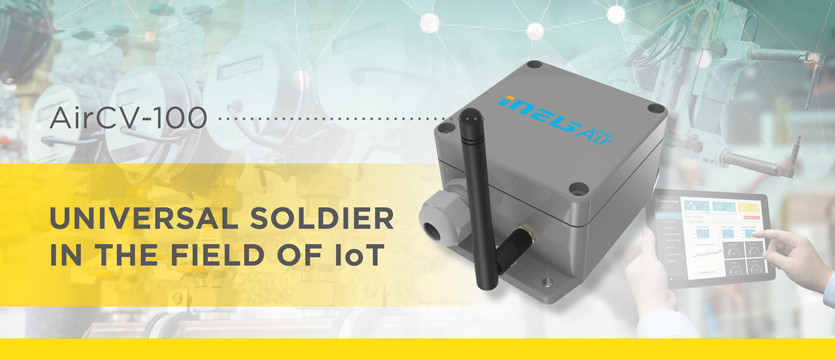 Introducing a new product from iNELS Air, which was established at the beginning of the year as an independent company focused on projects and products from the IOT area. One of them is the universal converter AirCV-100, which is used for counting pulses, M-Bus, Wireless M-Bus or RS485. Connectivity is provided via Narrow Band IOT network or LoRa.
The Universal AirCV-100 pulse converter is used to retrieve information through a supported input interface and send it through a network to the IOT output. IoT technology is designed to provide full-area coverage both inside and outside buildings, is energy-efficient and has low operating costs for individual devices. Individual networks - LoRa and NarrowBand - are available to use this standard. Data from AirCV-100 can be displayed in iNELS Air Cloud. The industrial design of the transducers allows connection of A, D size batteries or mains connection with up to 305 VAC. With a wide range of options it can be used in industry 4.0, smart metering, and remote reading or as the basis for your application-specific equipment.
The communication interfaces supported by the IoT converter can be divided into two groups. The first group consists of Wireless M-Bus, M-Bus, RS485 and pulse interfaces. The second consists of LoRaWAN and NB-IoT interfaces, which are mainly used in the Internet of Things (IoT) concept. The IoT converter can be configured to link the interface between the above groups. Inside the converter is also an implemented LUA scripting interface, which serves for algorithmic processing of measured data directly in the converter.
Selected technical parameters
Programmable via LUA scripting interface
Remote configuration support
Communication interface input: M-Bus, Wireless M-Bus, RS485, S0 pulses
Communication interface output: LoRaWAN, NB-IoT
Power supply: Battery or external power supply
Settings: Using PC application, server messages
Operating temperature: -30 ° C to + 60 ° C
Mounting: 4 mounting holes with 5mm diameter, 2 mounting holes with 9mm diameter
Sensor connection: screw terminals
Antenna: SMA connector
Size: 123 x 82 x 56mm
Date of publication: 09. 03. 2020
Calendar
Customer Centre
Technical support
| | |
| --- | --- |
| | +420 800 100 671 |
| | support@elkoep.com |
SALES
| | |
| --- | --- |
| | +420 573 514 221 |
| | sales@elkoep.com |